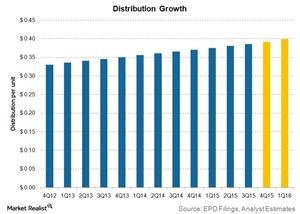 Enterprise Products' Distribution Coverage Remains Strong in 3Q15
By Rekha Khandelwal, CFA

Nov. 10 2015, Updated 2:08 p.m. ET
EPD's distributions
Enterprise Products Partners (EPD) declared a 1.3% quarter-over-quarter rise in its distributions to $0.39 per unit. The company's distributions per unit rose for the 45th quarter in a row. The consensus estimate for Enterprise Products' per unit distribution for all of 2015 is $1.53, a 5.6% rise over distributions in 2014.
The graph below shows growth in Enterprise Products' quarterly per unit distribution. It also shows consensus per unit distribution estimates for 4Q15 and 1Q16.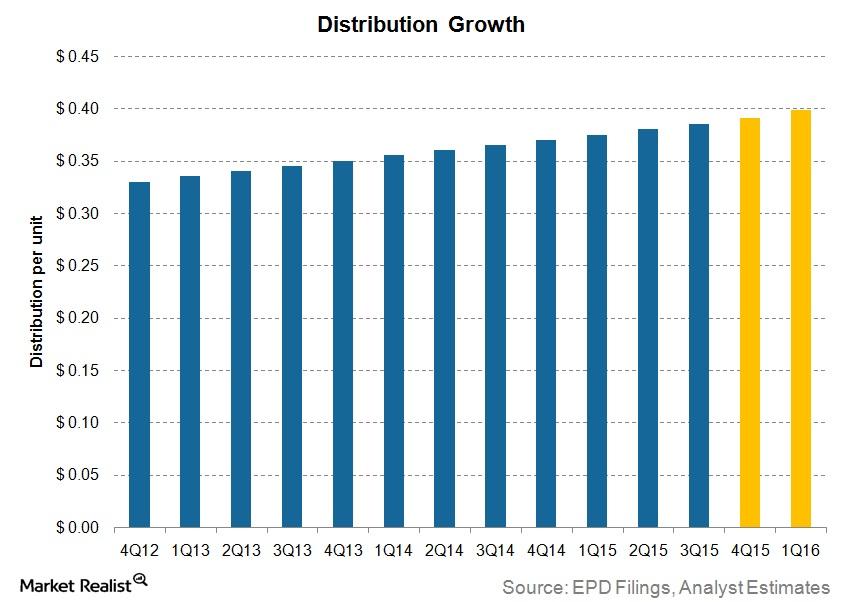 Article continues below advertisement
Enterprise Products' consistent distribution growth in the challenging environment likely indicates the underlying strength of its operations. Martin Midstream Partners (MMLP), American Midstream Partners (AMID), Cheniere Energy Partners (CQP), and a few other MLPs didn't increase distributions in 3Q15. Enterprise Products Partners forms ~0.6% of the Guggenheim Multi-Asset Income ETF (CVY).
EPD's distribution coverage
A company's distribution coverage is the ratio of its distributable cash flow to total distributions. Enterprise Products' distribution coverage ratio for 3Q15 is 1.3x.
Enterprise Products' distribution coverage ratios were 1.86x, 1.52x, and 1.51x in 2012, 2013, and 2014, respectively. Distribution growth without comparable growth in cash flow likely caused the fall. Lower energy prices have impacted Enterprise Products' cash flows.
Generally, MLPs with stable earnings target a distribution coverage ratio in the range of 1x–1.1x the distributable cash flow. EPD's distribution coverage, though falling, is still higher than the generally targeted range.
Michael A. Creel, chief executive officer of Enterprise Products Partners, said in the company's 3Q15 earnings release, "We have a model that includes a simple company structure, a supportive general partner, no incentive distribution rights, a focus on fee-based cash flows and a willingness to sell non-core assets to reinvest in capital opportunities that generate higher returns and integrate with our value chain. We believe our business model provides us with higher expected potential for future growth, the expectation of consistent distribution increases, along with solid distribution coverage metrics, and a reasonable use of financial leverage."