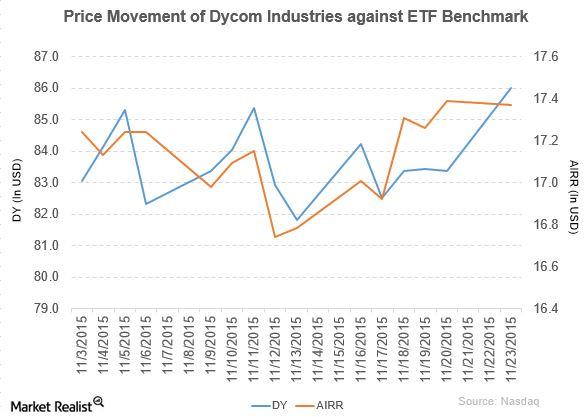 Dycom Industries: Stock Rose 3.2% on Positive 1Q16 Earnings
By Gabriel Kane

Nov. 20 2020, Updated 11:00 a.m. ET
Price movement of Dycom Industries
Dycom Industries Inc. (DY) has a market cap of $2.9 billion. Dycom's YTD (year-to-date) price movement has been rising quarter-over-quarter in calendar 2015. After the 1Q16 earnings report, DY rose by 3.2% to close at $86.01 per share as of November 23, 2015. The price movement on a weekly, monthly, and YTD basis is 2.1%, 13.5%, and 145.1%, respectively.
Technically, the stock sometimes broke the support of the 20-day and 50-day moving averages in 2015. Currently, DY is trading 5.5% above its 20-day moving average, 9.9% above its 50-day moving average, and 40.5% above its 200-day moving average.
Article continues below advertisement
The First Trust RBA American Industrial Renaissance ETF (AIRR) invests 4.0% of its holdings in Dycom. The ETF tracks a multifactor-selected and proprietary-weighted index of industrial service and support firms as well as community banks that could benefit from a potential industrial revival in the United States. The YTD price movement of AIRR is -4.9% as of November 20, 2015. The AlphaClone Alternative Alpha ETF (ALFA) invests 1.4% of its holdings in Dycom.
The competitors of Dycom Industries (DY) and their market caps are:
Performance of Dycom Industries in 1Q16
The company reported 1Q16 revenue of $659.3 million, a rise of 29.2% when compared to revenue of $510.4 million in 1Q15. The cost of earned revenue as a percentage of revenue fell by 3.8% in 1Q16 as compared to the prior year period.
Dycom reported a loss on debt extinguishment of $16.3 million in 1Q16. Its net income and EPS (earnings per share) rose to $30.8 million and $0.91, respectively, in 1Q16, as compared to net income and EPS of $20.8 million and $0.59, respectively, in 1Q15. The non-GAAP[1. GAAP stands for generally accepted accounting principles] Adjusted EBITDA[2. earnings before interest, tax, depreciation, and amortization] rose to $105.7 million in 1Q16, a rise of 59.2% as compared to prior year period.
Article continues below advertisement
Meanwhile, cash and cash equivalents and inventories rose by 2.3% and 18.5%, respectively, in 1Q16 on a quarterly basis. The company's current ratio and debt-to-equity ratio rose to 3.24 and 1.81, respectively, in 1Q16, as compared to the current and debt-to-equity ratio of 3.07 and 1.67, respectively, in 4Q15.
Also, the company set $50 million to repurchase shares of its outstanding common stock. As of August 24, 2015, it had ~33.2 million shares of common stock outstanding, excluding the dilutive effect of stock options and unvested restricted stock.
The company projected the following figures for 2Q16:
revenue in the range of $530 to $550 million
non-GAAP Adjusted Diluted EPS in the range of $0.52 to $0.60.
Non-GAAP Adjusted Diluted EPS excludes $4.1 million of pre-tax interest expense for non-cash amortization of debt discount, or $0.08 per share diluted on an after-tax basis.
About Dycom Industries
Dycom Industries provides specialty contracting services to the dynamic telecommunications and infrastructure industry. These include engineering, construction, maintenance, and installation services to telecommunications providers, underground facility locating services to various facilities, and other construction and maintenance services to electric and gas utilities and others.