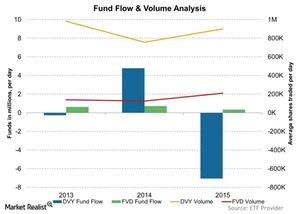 Why Has DVY's Fund Inflow and Volume Decreased in 2015?
By Ivan Kading

Nov. 19 2015, Updated 8:09 a.m. ET
DVY versus FVD
The iShares Select Dividend ETF (DVY) is based on the Dow Jones U.S. Select Dividend Index. The index provider selects only high-dividend-yielding stocks in its portfolio. The First Trust Value Line Dividend ETF (FVD) is another smart beta dividend-yielding fund that seeks to replicate the investment result of the Value Line Dividend Index.
The underlying index selects stocks that have the capability to generate dividends and have the potential for capital appreciation. According to a survey by Invesco in 2014, high-dividend-yielding smart beta ETFs are the most widely used. In the next part of this series, we'll do a fund flow and volume analysis of DVY and FVD.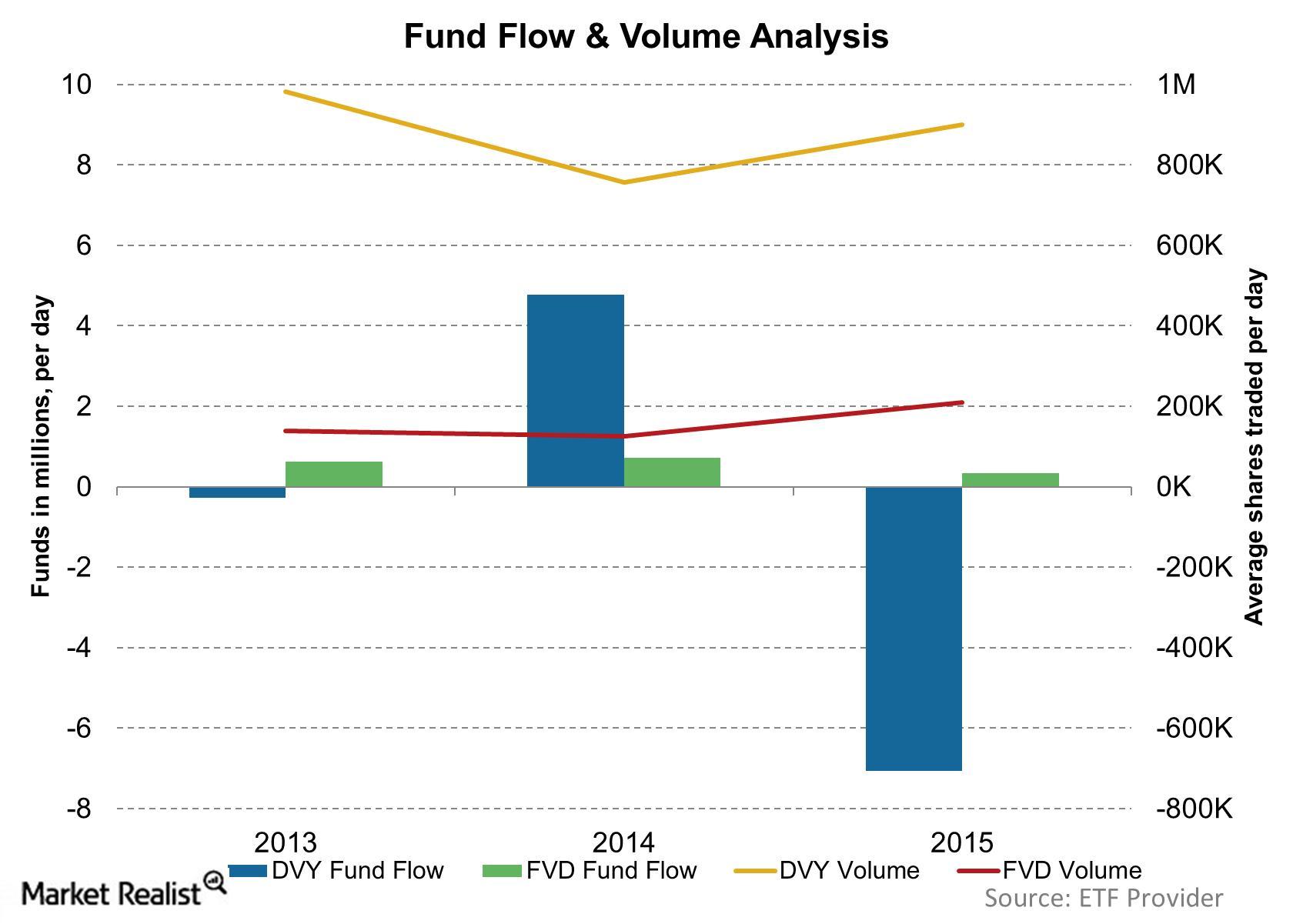 Article continues below advertisement
Low performance, low demand
DVY saw a huge drop in its fund flow this year compared to FVD, which resulted in a fund outflow (or negative fund inflow) for DVY. It happens mainly when the redemption of shares is higher than purchases.
Fund outflow signals low demand and investor confidence in a fund. The volume of DVY shares traded per day witnessed a drop in 2014 and is still struggling to grow. On the other hand, FVD has a steady growth in its volume of shares traded in 2015.
Portfolio comparison
The top holdings of DVY are CME Group (CME), McDonald's (MCD), Kimberly-Clark (KMB), and Chevron (CVX). FVD's top holdings include BOK Financial (BOKF), Chevron (CVX), and Kellogg (K). As of November 18, 2015, the average dividend yield of DVY's entire portfolio was 3.9%, whereas FVD's mean dividend yield was 3.2%.
In the next part, we'll do a detailed holdings analysis of DVY.