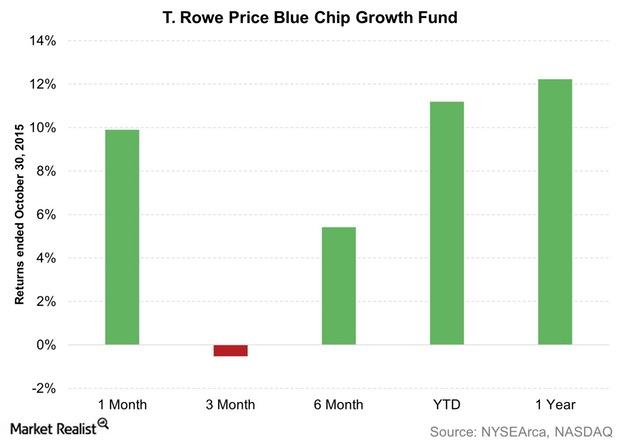 How Core Picks Have Fueled Wins for the T. Rowe Price Blue Chip Growth Fund
By David Ashworth

Nov. 20 2015, Published 3:50 p.m. ET
Performance evaluation
The T. Rowe Price Blue Chip Growth Fund (TRBCX) rose by 9.9% in October 2015 over the previous month. In the three- and six-month periods ending on October 30, the fund fell by 0.5% and rose by 5.4%, respectively. In the YTD (year-to-date) period, the fund was up by 11.2%, while in the one-year period, it rose by 12.2%. From the end of October until November 19, the fund was up by 0.6%.
The fund emerged as the top performer in all periods under review except the three-month period, in which it was the second-best performer. But let's look at what contributed to this dominant performance by the fund.
Article continues below advertisement
Portfolio composition and contribution to returns
TRBCX has witnessed several market cycles, having been launched in June 1993. The latest complete portfolio available for the fund is as of September 2015. Hence, for our analysis, we'll take that portfolio as our base and consider valuation changes as they stood at the end of October 2015. All portfolio percentages mentioned from here on refer to weights according to changes in valuation between September and October.
Stocks from the consumer discretionary sector were major contributors to the fund's returns for the one-year period ending in October 2015. Strong returns posted by Amazon.com (AMZN) were responsible for half of the contributions to total returns from the sector. Starbucks Corporation (SBUX) came in a distant but important second place. Lowe's Companies (LOW) and O'Reilly Automotive (ORLY) also contributed positively. Meanwhile, Wynn Resorts (WYNN) emerged as the biggest drag on the sector.
Positive contributions from the information technology sector came from Class C shares of Alphabet (GOOG), Facebook (FB) and Visa (V). Baidu (BIDU) and Alibaba Group Holding (BABA), on the other hand, reduced some of the positive contributions from the sector.
The materials sector, which has been a troubling sector for a lot of mutual funds in this review, actually contributed positively to TRBCX, with Sherwin-Williams Company (SHW) and Ecolab (ECL) contributing positively.
Reasons driving dominant performance
Consumer staples, healthcare, and energy did drag on the fund's returns. However, the positive contributions from its core sectors more than outdid the negative contributions from these. Also, its low energy exposure ensured that the drag from the sector was minimal.
In the next part of this series, we'll take a look at the Vanguard Growth Index Fund Investor Shares (VIGRX).