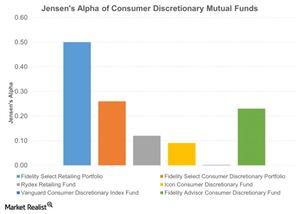 Mutual Funds: A Comparative Analysis Using Jensen's Alpha
By Mark Jonker

Nov. 20 2020, Updated 4:00 p.m. ET
Jensen's alpha
Jensen's alpha helps an investor determine how much extra return a fund has earned above the expected return while considering the non-diversifiable risk of the market. The expected return is calculated using the CAPM (capital asset pricing model). A positive Jensen's alpha indicates that the managers of the fund, through careful stock selection, have been able to extract higher returns than the market (which in our case is the underlying indexes). Jensen's alpha is calculated as follows:
Jensen's alpha = (portfolio return – expected return (CAPM))
Let's have a look at the Jensen's alphas of our selected funds.
Article continues below advertisement
Comparison of consumer discretionary mutual funds
Each fund's Jensen's alpha has been plotted on the above chart. The Fidelity Select Retailing Portfolio (FSRPX) has an alpha of 0.50, the highest alpha in the group. This means that FSRPX's fund manager has been able to pull out a return 0.50% higher than the benchmark index. The Fidelity Select Consumer Discretionary Portfolio (FSCPX) follows with an alpha of 0.26, and the Vanguard Consumer Discretionary Index Fund (VCDAX) has an alpha of 0.0, which means that it tracks its underlying index very closely.
Fidelity Select Retailing Portfolio
The Fidelity Select Retailing Portfolio (FSRPX) is an open-ended mutual fund and it primarily invests in companies that provide finished goods and services to customers. The fund has returned 27.2% in the last year. As of September 30, 2015, it had an exposure of around 92.5% to consumer discretionary stocks, and its top five holdings were The Home Depot (HD), Amazon.com (AMZN), Priceline.com (PCLN), The TJX Companies (TJX), and O'Reilly Automotive (ORLY). In the next part of this series, we'll compare funds based on the Sharpe ratio.