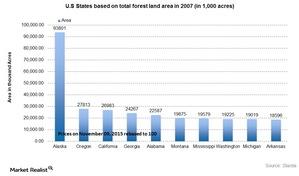 Analyzing Plum Creek Timber's Merger with Weyerhaeuser
By Steve Sage

Nov. 20 2015, Published 5:47 p.m. ET
Plum Creek soared after news of merger
Although the iShares US Real Estate ETF (IYR) witnessed negative returns for the week ended November 13, 2015, some stocks outshined the others and brought some relief to investors. The top performers of the week and their returns were:
Plum Creek Timber Co. (PCL): 6%
CubeSmart (CUBE): 3.7%
Invesco Mortgage Capital (IVR): 2.8%
Mack-Cali Realty Corp. (CLI): 2%
Extra Space Storage Inc. (EXR): 1.8%
The graph below shows the top ten US states based on forest land area.
Article continues below advertisement
Why did Plum Creek outperform?
Plum Creek Timber (PCL) generated returns of 14.6% last week, backed by news of a merger with Weyerhaeuser (WY). WY bought PCL for $8.44 billion to form what is expected to be one of the world's biggest timberland and forest product companies. The combined company should own more than 13 acres of timberland across the country.
Details of the deal
The combination of the two leaders should create a $23 billion timber REIT for the economy.
PCL should receive 1.6 shares of WY for each share of Plum Creek held.
All stock transactions should be followed by a $2.5 billion post-closing share repurchase deal.
There should be a total annual synergy cost of $100 million.
Positive impacts of the merger
It should create the largest private ownership in the country.
Economies of scale can be achieved, leading to growth opportunities.
It should create low-cost manufacturing units.
It should produce an attractive dividend to the investors.
It should produce a unique ability to capitalize on the housing recovery.
It should present a significant use of the management and efficient portfolio management.
The strong balance sheet indicates a commitment to investment-grade credit rating.
It should present the opportunity to improve the capital budgeting process.
PCL is part of the Specialized REITs family under the iShares US Real Estate ETF (IYR) and comprises 0.91% of the total weight of the fund.