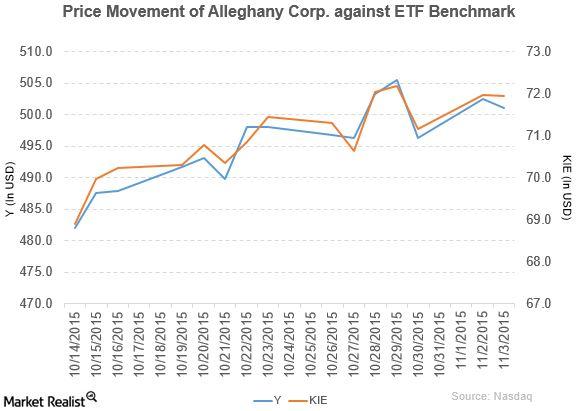 Alleghany's Revenue and Income Fall in 3Q15
By Gabriel Kane

Nov. 4 2015, Published 9:24 a.m. ET
Alleghany's price movement
Alleghany Corporation (Y) has a market capitalization of $8.0 billion. Alleghany's YTD (year-to-date) price movement has been a mix of rises and falls in 2015.
After its 3Q15 earnings report, Alleghany fell by 0.29% to close at $501.09 per share as of November 3, 2015. Its price movements on a weekly, monthly, and YTD basis are 0.95%, 5.6%, and 8.1%, respectively.
Technically, the stock has broken the support of its 20-day and 50-day moving averages and sometimes of its 200-day moving average throughout 2015. Currently, it's trading at 2.2% above its 20-day moving average, 5.1% above its 50-day moving average, and 4.5% above its 200-day moving average.
The SPDR S&P Insurance ETF (KIE) invests 2.1% of its holdings in Alleghany. The ETF tracks an equal-weighted index of insurance companies as defined by the GICS (global industry classification standard). The YTD price movement of KIE is 9.2%.
The competitors of Alleghany Corporation and their market capitalizations are:
Article continues below advertisement
Alleghany's performance in 3Q15
Alleghany reported net revenue of $1,189.0 million in 3Q15, a fall of 8.6% when compared to its net revenue of $1,300.4 million in 2Q15. The net premiums written from its reinsurance and insurance segments fell by 9.3% and 17.5%, respectively, in 3Q15.
The company's underwriting profit from its reinsurance segment fell by 38.9% and its underwriting profit from its insurance segment rose by 67.7% in 3Q15. Its 3Q15 net income and EPS (earnings per share) fell 47.0% and 46.8%, respectively, on a quarter-over-quarter basis to $97.1 million and $6.07 per share, respectively.
The company's total investments and cash fell by 2.1% and 13.1%, respectively, in 3Q15. Its debt-to-equity ratio rose to 2.14 in 3Q15 as compared to a debt-to-equity ratio of 2.12 in 2Q15.
Weston Hicks, Alleghany's president and chief executive officer, said, "The results were impacted by higher catastrophe losses at TransRe, primarily due to the explosion in Tianjin China ($31.5 million) and modestly lower favorable prior year loss reserve development, primarily at RSUI. Softening market conditions and a strong dollar negatively impacted top-line premium writings."
Some of Alleghany's key activities in 3Q15 are as follows:
Article continues below advertisement
R.C. Tway Company, a subsidiary of Alleghany Capital Corporation, acquired Smit Mobile Equipment B.V. and Smit Mobile Equipment UK.
Alleghany Capital Corporation, a wholly-owned subsidiary of Alleghany Corporation, acquired a majority interest in Integrated Project Services, a technical services provider focused on the global pharmaceuticals and biotechnology industries.
About Alleghany
Anchored by a core position in property and casualty reinsurance and insurance, Alleghany owns and manages operating subsidiaries and investments.