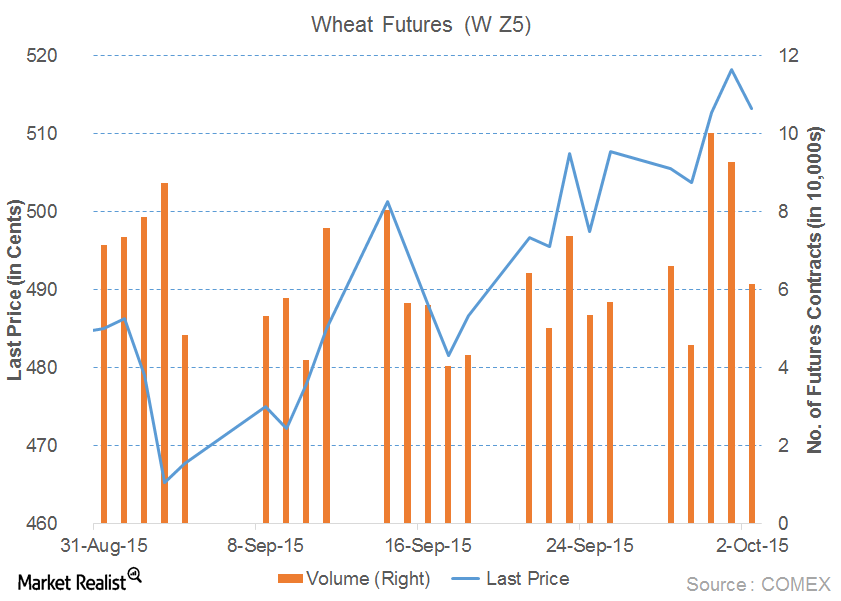 Has the Wheat Price Rally Ended?
Wheat prices fall
The December delivery of wheat futures contracts traded on CBOT (Chicago Board of Trade) fell by 0.96% to settle at $5.13 per bushel on October 2, 2015. Wheat futures prices remained lower than in the previous day due to profit booking after the 8.5-week rally. Following wheat futures prices on CBOT, ETFs like the Teucrium Wheat Fund (WEAT) fell slightly by 1.02% on October 2.
Wheat prices were down as a result of the correction from 8.5-week high prices on October 1. Many of the traders booked profits on October 2, which pushed wheat prices down. However, the open interest increased 1.53% on CBOT for soft red winter wheat on October 2.
Article continues below advertisement
Egyptian wheat stocks are sufficient until the first week of March 2016, according to Egypt's Ministry of Agriculture. Egypt's General Authority for Supply Commodities bought 235,000 tons of wheat from Russia and Ukraine for November expiry at an average price of $199.72 per ton, according to an October 2 report.
Statistics Canada's latest crop production estimates from October 2 anticipate wheat production at 26.1 million tons. It has decreased by 1.41% from the previous expectations. However, it is still higher than the US Department of Agriculture's latest report. Large global supplies raised concerns about Russian supplies due to increasing dry weather conditions continuing. Russian winter wheat struggled to advance through germination stage due to dry weather conditions. Wheat from the Russia region remains competitive against US wheat as a result of an additional wheat export tax decline. The increasing supply to the world balance sheet and incompetence of US wheat against the Black Seas region might hurt US exports further.
Impact on fertilizer business
With the decline in wheat prices, fertilizer usage might fall, as farmers wouldn't be inclined to use additional fertilizers for increasing production. The lack of fertilizer sales could hurt companies like Potash (POT), Terra Nitrogen Company (TNH), Intrepid Potash (IPI), and Mosaic (MOS). Shares of these companies rose on October 2, 2015. The Materials Select Sector SPDR ETF (XLB), which has exposure to these companies, surged by 2.45%.