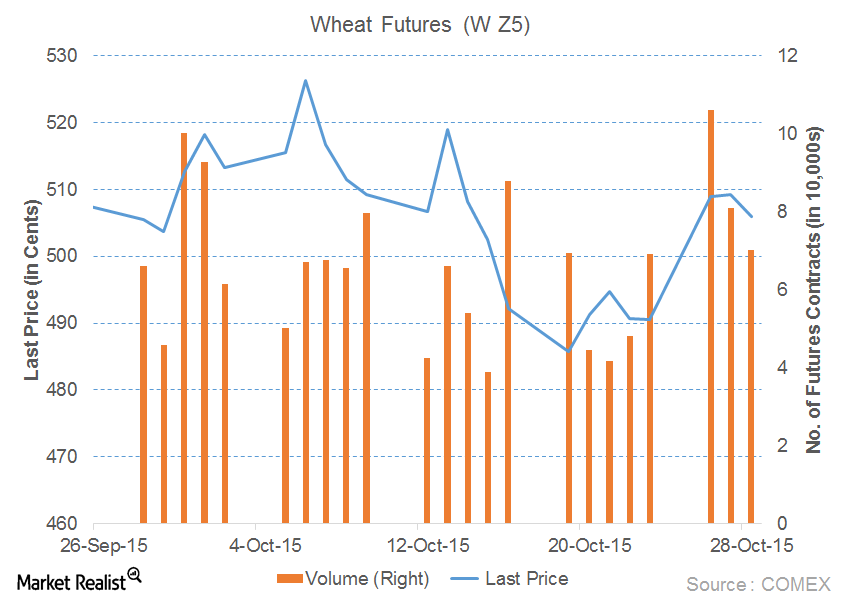 Could Weather in Black Sea Region Keep Wheat Prices Down?
Wheat prices fall
Wheat December futures contracts trading on the CBOT (Chicago Board of Trade) fell by 0.64% and settled at $5.06 per bushel on October 28, 2015. Wheat futures prices fell due to the speculation of supportive weather in the US Midwest. In contrast, ETFs like the Teucrium Wheat Fund (WEAT) rose by 0.17% on October 28, 2015.
The southern region in the US might receive more rain during the week. The area needs precipitation because the forecast for Hurricane Patricia didn't materialize. However, the precipitation might not be enough to meet the precipitation needs. There has been a dry spell for several weeks. Certainly, rain would help the crops. The fall wheat crop is lagging slightly behind the average for the last five years. Wheat prices fell on October 28, 2015. It boosted the supply sentiment.
Article continues below advertisement
It has been in speculators' calculations that the fall crop in Russia has been progressing very well. The crop is strong because of recent precipitation in the region. According to reports from Allendale, the Russian wheat crop is more than 70% complete. The rain expectation in the Black Sea region would help the winter wheat crop grow. It would also support the supply sentiment. It would negatively impact the expectations for wheat export sales. The wheat supply from the Black Sea region has been more cost efficient than the US wheat. The rise in the US Dollar Index by 0.72% on October 28, 2015, added to the sentiment.
The U.S. Department of Agriculture's output expectation for Australia's wheat fell by 11.1% to 24 million tons. The dry weather in Australia generated some concerns about the moisture in the region. It might support the world wheat futures sentiment over the vast wheat stock.
Impacted food stocks
The share prices of Hormel Foods (HRL) and Pilgrim's Pride (PPC) rose on October 28, 2015, by 1.2% and 0.26%, respectively. However, J M Smucker (SJM) and General Mills (GIS) fell by 0.64%, and 0.17% on October 28, respectively. ETFs like the Material Select Sector SPDR ETF (XLB) also rose by 1.5% on October 28.