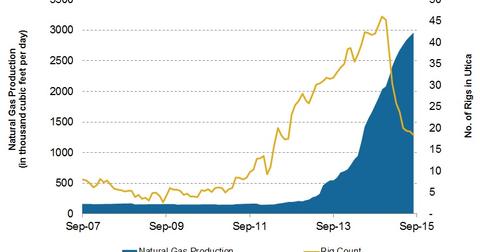 Utica Shale Natural Gas Production: Slowest Growth in September
By Alex Chamberlin

Updated
Utica Shale natural gas production
According to the EIA (U.S. Energy Information Administration), the Utica Shale in eastern Ohio has become one of the fastest-growing natural gas–producing regions in the United States. In its Drilling Productivity Report released on October 13, 2015, the EIA estimates that the Utica Shale natural gas production reached 3.0 Bcf (billion cubic feet) per day in September. That's 2.1% more than production in August and 78% more than production last year.
September saw the slowest natural gas production growth in the Utica Shale in 2015. In the past eight years, natural gas production at the Utica Shale rose more than 17-fold.
Article continues below advertisement
Rigs and monthly additions from one average rig
According to Baker Hughes (BHI), there are currently 19 rigs operating at the Utica Shale, the same as in August. In comparison, 42 rigs were in operation in the shale last year.
From September 2007 to September 2015, additional natural gas production per rig at the Utica Shale rose from ~0.18 MMcf (million cubic feet) per day to 5.8 MMcf per day, or by 31x. In the 12 months to September 2015, natural gas production addition per rig rose 61%.