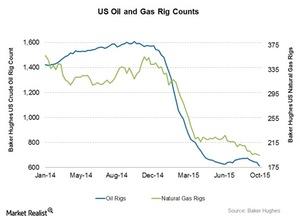 US Crude Oil and Natural Gas Rigs Fell in Week Ended October 2
US crude oil and natural gas rigs
According to Baker Hughes (BHI), in the week ended October 2, 2015, the US rig count decreased by 26 crude oil rigs, while the natural gas rig count decreased by two. One miscellaneous rig was idled last week. Crude oil rigs have continued to decrease in the past five weeks. The natural gas rig count has been volatile, but it is in a downward trend.
In the 12 months ended October 2, 2015, the total US crude oil and natural gas rig count fell by 1,113, or 58%. The number of active oil rigs fell by 977, or 61%. The number of natural gas rigs fell by 135, or ~41%, over this period.
Article continues below advertisement
Why rig count trends matter
Rig counts tell us how many rigs are actively drilling for oil and gas. Analyzing the change in the number of active rigs can help us understand how long-term supply could evolve. Oil and gas rig counts signal how confident producers are about drilling for oil and gas.
Rising rig counts could indicate a potential increase in supplies in the months to come. In contrast, falling rig counts point to a potential stagnation in supplies.
Effect on energy companies
The 58% fall in active rigs in the past year indicates a fall in exploration and production activity by upstream oil and gas companies. Apart from upstream energy companies, falling natural gas rig counts over the past year would negatively affect natural gas compression services providers such as Exterran Holdings (EXH) and Exterran Partners (EXLP).
The falling trend over the past year would also negatively affect Nabors Industries (NBR), which provides drilling and rig services, as well as completion and production services. Drill equipment makers such as Schlumberger (SLB) and Halliburton (HAL) also suffer if rig counts decrease.
A lower rig count should reduce oilfield service companies' revenues as upstream companies reduce exploration and production activity and push oilfield service companies for lower contract terms or day rates to save on costs. Schlumberger forms 19.6% of the VanEck Vectors Oil Services ETF (OIH).
Lower crude oil and natural gas production could negatively affect midstream energy MLPs like Williams Partners (WPZ), Energy Transfer Partners (ETP), MarkWest Energy Partners (MWE), and Enbridge Energy Partners (EEP) due to lower volumes.