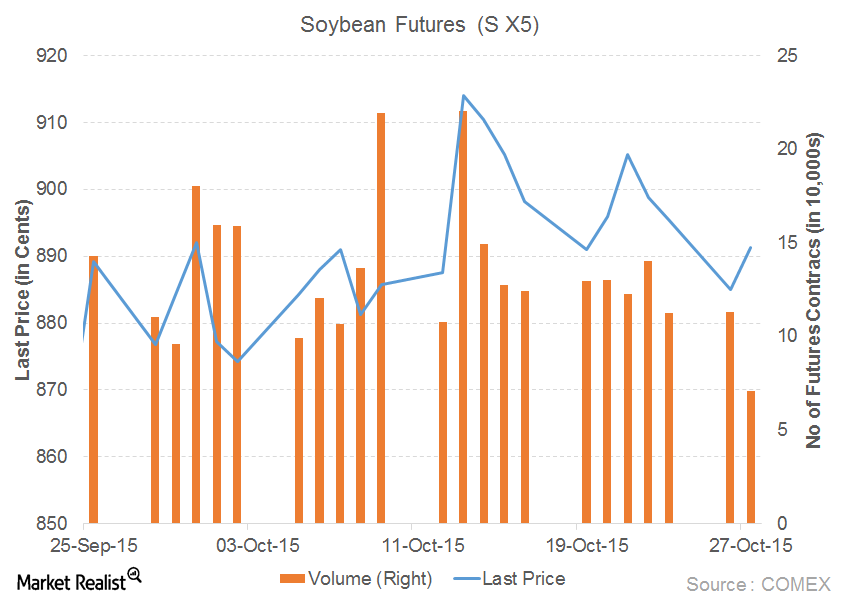 Is It Time to Roll Over Soybean November Futures Contracts?
Soybean prices increased
Soybean November futures contracts trading on the Chicago Board of Trade (or CBOT) rose by 0.71% and closed at $8.91 per bushel on October 27, 2015. Soybean futures prices rose due to speculation of favorable weather in South America. ETFs such as the Teucrium Soybean ETF (SOYB) also increased by 0.51% on October 27, 2015.
As the first notice day for soybean futures, October 30, 2015, is the expiry date for November soybean futures contracts. Volumes have started falling heavily over the last two trading days. However, at current prices, speculators may wonder if a rollover to January contracts may be the correct decision.
The harvest may last longer due to rainy weather during the week. The stronger exports and higher domestic consumption seen in October may fall, as demand is expected to contract due to strict margins. South America expects to see precipitation, but the dry weather could remain.
Precipitation in Brazil would help newly planted soybean crops. Farmers in Argentina have delayed soybean crop sales in anticipation of a newly elected president providing export tax relief. Weather-based speculation has supported prices during the week on the CBOT, as seen on October 27, 2015.
Sentiments support output's remaining high for the final US soybean crop output of the 2015 harvest. The anticipated numbers may support January contracts prices. There's the chance that January contracts could trade near November contracts in the week ending October 31, 2015.
Article continues below advertisement
Fertilizer stocks affected