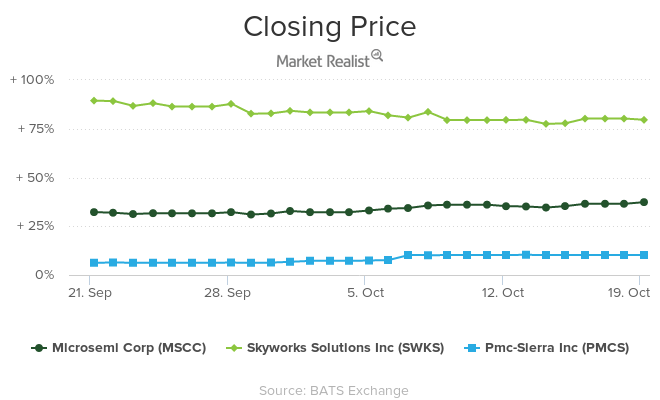 Microsemi Offers $2.2 Billion in Competition for PMC-Sierra
By Puja Tayal

Oct. 21 2015, Updated 12:07 p.m. ET
Microsemi bids for PMC-Sierra
On October 19, 2015, Microsemi Corporation (MSCC), a manufacturer of high-performance semiconductors, made a cash-stock offer of about $2.2 billion to acquire fabless semiconductor company PMC-Sierra (PMCS). Microsemi's offer comes a few days after Skyworks Solutions (SWKS) agreed to buy PMC-Sierra in an all-cash transaction of about $2 billion on October 5, 2015. Neither Skyworks nor PMC-Sierra have commented on the offer.
[marketrealist-chart id=739435]
After the news was released, PMC-Sierra's shares jumped 14%, to close at $11.73 on October 19, 2015. Meanwhile, Microsemi's shares plunged 5.4% to $35.33, and Skyworks' by 2% to $77.83.
Article continues below advertisement
Microsemi's offer versus Skyworks' offer
Microsemi's offer values PMC-Sierra at $11.50 per share, compared with Skyworks' offer of $10.50 per share. Microsemi's offer values PMC-Sierra shares at about a 50% premium of the closing price on October 5, 2015, while Skyworks' offer values PMC-Sierra shares at about a 37% premium.
Recently, Dialog Semiconductor acquired Atmel Corporation (ATML) for a 43% premium, which is more than double the 19% average premium paid by buyers in comparable semiconductor acquisitions over the past year.
Details of Microsemi's offer
Microsemi will pay $11.50 per PMC-Sierra share in a cash-stock transaction, in which $8.75 will be paid in cash and $2.75 worth of Microsemi stocks will be issued for each share of PMC-Sierra held. The total value of the deal will come in at $2.4 billion, according to Microsemi. The merged company will be ~85% owned by Microsemi shareholders and ~15% by PMC-Sierra shareholders. If the offer is approved by PMC-Sierra, the deal is expected to close in December 2015.
Why is Microsemi interested in PMC-Sierra?
Microsemi is interested in PMC-Sierra as Microsemi is looking to expand in the data center and cloud space. Microsemi expects the deal to bring cost synergies of over $100 million every year, of which more than $75 million savings is expected to be realized in the first full quarter after the deal closes.
If you are bullish about Microsemi you can invest in the iShares Russell 2000 Growth ETF (IWO). It has 0.4% exposure to the company's stock. In the following parts of this series, we'll analyze Skyworks' offer and the value that PMC-Sierra could bring to both buyers.