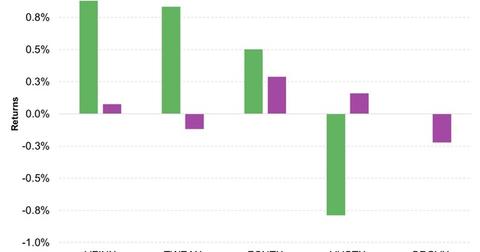 How Did Markets React to the FOMC's September 2015 Minutes?
By David Ashworth

Updated
Equities rose
Equities have been big beneficiaries of the low interest rate regime in the US. Stocks read the September 2015 minutes of the FOMC (Federal Open Market Committee), the rate-setting committee of the Federal Reserve, as dovish. Due to this, stocks saw a rise on October 8. However, the amount that mutual funds rose was dependent on their strategy.
The Vanguard 500 Index Fund – Investor Class (VFINX), which tracks the S&P 500 Index, was up 0.9% at the close of trade on October 8. On the other hand, the American Century Equity Income A (TWEAX), which is actively managed, returned 0.8%. The Fidelity Contrafund (FCNTX) was up only 0.5% for the day but rose more than the other two funds on the following day. Avon Products (AVP), Denbury Resources (DNR), and Joy Global (JOY) were among the top gainers among stocks.
Article continues below advertisement
Treasuries were mixed
The Treasuries' yield curve saw movement in both directions. While Treasuries at the short end of the curve were either flat or moved down marginally, those at the longer end of the curve saw a rise. Up to the two-year maturity, there was barely any movement. The three-year to seven-year maturity bucket saw yields rising in the range of one to four basis points. Meanwhile, the ten-year to 30-year mature bucket saw a rise between four to seven basis points.
This was reflected in the performance of associated mutual funds as well. The Vanguard Long-Term Treasury Fund – Investor Class (VUSTX), which invests in longer maturity Treasuries, fell by 0.8% due to a fall in long-term Treasury yields. Meanwhile, the Oppenheimer Limited-Term Government Bond Fund – Class A (OPGVX), which invests in shorter maturity Treasuries, was flat for the day.
What should mutual fund investors watch out for?
Mutual fund investors, especially those invested in fixed income funds, should watch developments on the Federal Reserve front closely. The chance of a rate hike in October seems unlikely. However, a rate hike is still probable before the end of 2015. Since a rate hike may push yields across the spectrum upwards, investors should position their portfolios so as to minimize the negative impact on their investment. Floaters work better in a rising inflation rate environment than traditional fixed income securities.
In the rest of this series, we'll delve into the Federal Reserve's views on various aspects of the US economy.