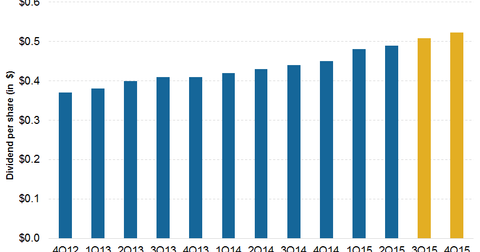 Kinder Morgan's Dividends Are Expected to Grow in 2015
By Kurt Gallon

Oct. 9 2015, Published 2:44 p.m. ET
Kinder Morgan's dividend growth
Kinder Morgan (KMI) has been able to grow its dividends since the first quarter of 2014 despite the weakness in energy prices. Its 2Q15 dividend per share grew ~2.1% quarter-over-quarter, driven by growing fee-based cash flows.
Article continues below advertisement
Kinder Morgan's 3Q dividend expectations
According to Wall Street analysts' estimates, KMI's dividend is expected to grow 3.7% quarter-over-quarter in 3Q15 and ~15% YoY (year-over-year) by the end of 2015 versus 2014. Analysts' dividend growth estimates are in line with the management's dividend guidance of 15% growth for the full year of 2015 over the full year of 2014.
Growth drivers for Kinder Morgan's dividend
A modest 3.7% quarter-over-quarter dividend growth in 3Q15 looks achievable for KMI considering:
the strong performance of fee-based businesses
the addition of more fee-based projects in recent quarters
growth from its February 2015 Hiland Partners acquisition
excess dividend coverage of $266 million for the first six months of 2015
Article continues below advertisement
Kinder Morgan's leverage
Some Wall Street analysts believe that KMI and other midstream companies have been using debt to finance their dividends (or distributions) in the current low price environment. Kinder Morgan's net debt-to-EBITDA ratio as of June 30, 2015, was 6.7x. KMI's high leverage might imply that it has been using debt to fund growth projects that aren't generating high enough EBITDA.
Kinder Morgan's current dividend yield
KMI has an attractive dividend yield of 6.1%. In anticipation of dividend growth, KMI shares might go up, keeping the dividend yield to a level the market deems suitable. KMI's MLP counterparts, which are considered income-generating securities, such as Energy Transfer Partners (ETP), Spectra Energy Partners (SEP), and Enbridge Energy Partners (EEP) have current distribution yields of ~9.1%, ~5.7%, and ~8.5%, respectively. Spectra Energy (SE) and Enbridge (ENB) own the general partner of SEP and EEP, respectively.
KMI is the largest holding of the First Trust North American Energy Infrastructure Fund (EMLP). The company alone constitutes 9.04% of EMLP.