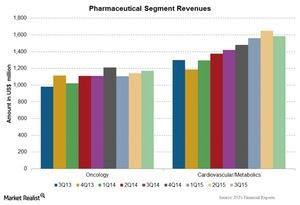 Johnson & Johnson: Other Pharmaceutical Franchises
By Mike Benson

Updated
Other franchises for pharmaceuticals segment
Johnson & Johnson's (JNJ) pharmaceutical segment includes oncology and cardiovascular/metabolics franchises. The performance of these franchises is discussed here.
Article continues below advertisement
Oncology franchise
The oncology franchise grew 18.4% at constant exchange rates to $1.17 billion during 3Q15, due to the rising sales of Zytiga and Imbruvica.
Zytiga, a drug used to treat prostate cancer in males, had reported improved sales in the US, Asia, and Latin America, but was offset by lower sales in European markets. Zytiga revenues fell by ~3.5% at $548 million for 3Q15 over 3Q14. Zytiga competes with Dendreon's (DNDN) Provenge.
Imbruvica, a drug used to treat chronic lymphocytic leukemia, reported rising sales due to the approval of new indications in the US and Europe markets. Imbruvica blocks the growth and spread of cancer cells in the body. Imbruvica competes with Gilead Sciences' (GILD) Zydelig.
Cardiovascular and metabolics franchise
The cardiovascular and metabolics franchise reported a rise in revenues of 16.1% at constant exchange rates to $1.58 billion in 3Q15. This rise was due to the strong sales of Xarelto and Invokana.
Xarelto's sales grew by over 11% to $461 million during 3Q15 as compared to 3Q14. Xarelto is a leader in the US oral anticoagulant market, with ~15.8% share in the broader oral anticoagulant market. Similarly, Invokana and Invokamet reported $340 million sales during 3Q15, after rising demand for these drugs.
Xarelto, a blood thinner, competes with Boehringer Ingelheim's Pradaxa, Bristol-Myers Squibb's (BMY) and Pfizer's (PFE) Eliquis. Invokana, a diabetes drug, competes with AstraZeneca's Farxiga.
Investors can consider ETFs like the VanEck Vectors Pharmaceutical ETF (PPH), holding 7.4% of its portfolio in Johnson & Johnson.