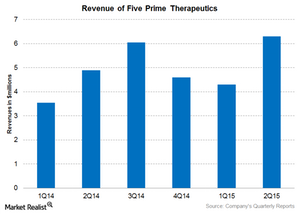 Insight: Five Prime Therapeutics
By Peter Neil

Nov. 20 2020, Updated 10:52 a.m. ET
About Five Prime Therapeutics
Five Prime Therapeutics (FPRX) is a clinical-stage biotechnology company focused on discovering and developing novel protein therapeutics for cancer and inflammatory diseases. It was founded in 2001 and is headquartered in South San Francisco, California, with a market cap of ~$816 million. The company's revenue is mainly generated from collaboration and licenses. It has collaborations with Bristol-Myers Squibb (BMY) and GlaxoSmithKline (GSK).
Article continues below advertisement
More on revenue
The graph above reflects the company's revenue on a quarter-over-quarter basis since the first quarter of 2014. For the year 2015, and until 2Q15, the company generated revenue of ~$10.6 million. It closed at $31.65 and was trading above 20-, 50-, and 100-day moving averages. With its current price, the company's price-to-book value ratio, or PBV, stood at 5.60x. The 14-day Relative Strength Index, or RSI, stood at 82, indicating that the stock may be temporarily overbought.
Product pipeline
FPA008: This is being developed to treat patients with macrophage-dependent diseases, including a variety of cancers, pigmented villonodular synovitis or PVNS, and rheumatoid arthritis, or RA.
In its clinical trial collaboration with Bristol-Myers Squibb, Five Prime Therapeutics is conducting a Phase 1a/1b clinical trial evaluating the immunotherapy combination of FPA008 with OPDIVO® (nivolumab), BMS's PD-1 immune checkpoint inhibitor, in non-small cell lung cancer (NSCLC), melanoma, head and neck cancer, pancreatic cancer, colorectal cancer and malignant glioma.
FPA144: FPA144 is a monoclonal antibody directed against a form of fibroblast growth factor receptor 2 (FGFR2) known as FGFR2b. FPA144 is believed to prevent binding of certain fibroblast growth factors to FGFR2b and inhibits their ability to promote the growth of the tumor cells. A Phase I clinical trial was initiated at the end of 2014.
FP1039: FP-1039/GSK3052230 is a protein designed to intervene in fibroblast growth factor (FGF) signaling. FGFs are a family of 22 related extracellular proteins called ligands that normally regulate cell proliferation and survival in humans.The Phase Ia clinical trial was completed with 39 patients with solid tumors and licensed the development and commercialization rights for FP-1039/GSK3052230 in the US, Europe, and Canada to GlaxoSmithKline (GSK). GlaxoSmithKline is conducting a Phase 1b trial and also funds clinical development.
Five Prime Therapeutics has a weight of 0.92% in the SPDR S&P Biotech ETF (XBI), and a weight of 0.07% in the iShare Nasdaq Biotechnology ETF (IBB).