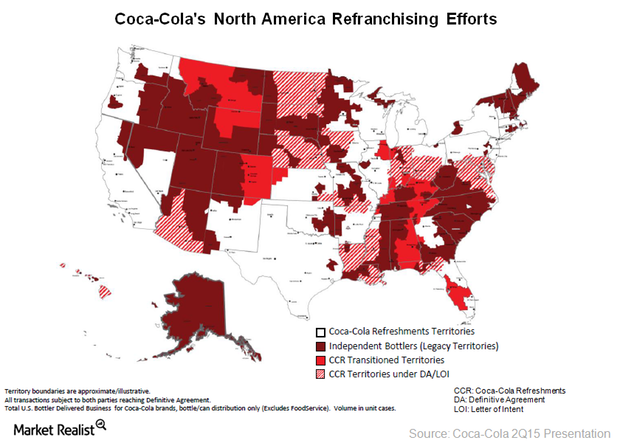 Insight into Coca-Cola's Refranchising Efforts in North America
By Sirisha Bhogaraju

Oct. 6 2015, Updated 9:10 a.m. ET
Refranchising efforts
In the first part of this series, we discussed Coca-Cola's (KO) decision to sell nine US production facilities to three of its independent bottlers. Aside from the letter of intent associated with the purchase of manufacturing facilities announced on September 24, Coca-Cola Bottling Co. Consolidated (COKE) also disclosed a definitive agreement with Coca-Cola to expand its franchise distribution territory to include territories located within Delaware, the District of Columbia, Maryland, North Carolina, Pennsylvania, Virginia, and West Virginia.
Coca-Cola Bottling Co. Consolidated is the largest independent bottler for Coca-Cola in the US.
Article continues below advertisement
The definitive agreement mentioned above marks the first phase of the proposed franchise territory expansion that was decided in the letter of intent signed between the entities in May 2015. Coca-Cola Bottling Co. Consolidated is also working towards a definitive agreement with Coca-Cola in connection with the expansion of bottling territory to other regions as per the May 2015 letter of intent. These other regions include distribution territories in parts of Ohio, Indiana, Illinois, and Kentucky.
Other refranchising efforts
In May 2015, Coca-Cola also signed a letter of intent with Clark Beverage Group under which the latter will assume the distribution rights in Mississippi markets. In June 2015, Coca-Cola closed its agreements with two new bottling partners for the granting of new distribution territories. Coca-Cola completed the transition of territories in the greater Chicago area and Northwest Indiana to Great Lakes Coca-Cola Distribution, L.L.C. The company also transitioned territories in Central Florida, including Tampa and St. Petersburg, Ft. Myers, Ft. Pierce, Lakeland, and Sarasota, to Coca-Cola Beverages Florida.
At the end of 2Q15, territories that were transitioned, as well as those covered by definitive agreements or letters of intent, represented ~25% of the total US bottle and can volume. The company's aim is to ensure distribution of two-thirds of its US bottle and can volume by independent bottlers by the end of 2017.
Coca-Cola's refranchising efforts reflect a U-turn from its strategy a few years back. In 2010, the company acquired the North American operations of Coca-Cola Enterprises (CCE) for $12.3 billion to better control the distribution of its products in the region. In 2010, rival PepsiCo (PEP) also acquired two of its largest bottlers, The Pepsi Bottling Group and PepsiAmericas.
Coca-Cola and PepsiCo together constitute 4.2% of the portfolio holdings of the iShares Russell Top 200 Growth ETF (IWY). Coca-Cola also makes up ~1.6% of the holdings of the SPDR Dow Jones Industrial Average ETF (DIA).
In 2013, Coca-Cola decided to refranchise the majority of its North American bottling operations. We'll see some of the major advantages of refranchising for Coca-Cola in the next part of this series.