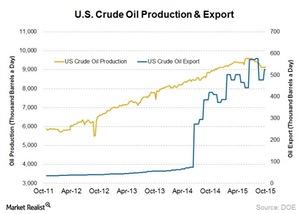 Impact on Crude Tanker Industry if US Crude Export Ban Is Lifted
By Sue Goodridge

Updated
US oil production
US oil production has reached levels not seen in decades. Oil production was recorded to be 9,096 thousand barrels a day on September 25, 2015, compared to 8,837 thousand barrels a day a year ago. For the past four decades, the United States has had a ban on exporting crude oil (DBO). With rising production levels, there have been talks of lifting the US crude export ban.
Article continues below advertisement
Why the US crude export ban can be lifted
Despite high production levels, the United State still imports approximately 40% of its oil needs. This is mainly because the United States has been producing light crude oil in greater proportion, but US refineries are equipped to refine heavy crude oil. US shale producers want their light crude oil to be exported overseas, as there is less domestic demand.
Impact on crude tanker market
According a the weekly report from shipbroker Gibson, the crude tanker market will benefit if the export ban is lifted. The lifting of the ban will increase seaborne trade in and out of the United States. Light crude oil is likely to be exported to Europe across the Atlantic. This will decrease European imports from West Africa. The West African oil will find a home in Asian countries, to which the route is longer, thus increasing the ton-mile demand.
Gibson also hints at the possibility that the U.S. crude could directly head to Asia. Overall, lifting of the ban will benefit companies such as Frontline (FRO), Teekay Tankers (TNK), Tsakos Energy Navigation (TNP), Nordic American Tankers (NAT), DHT Holdings (DHT), and Euronav (EURN).
Impact on product tanker market