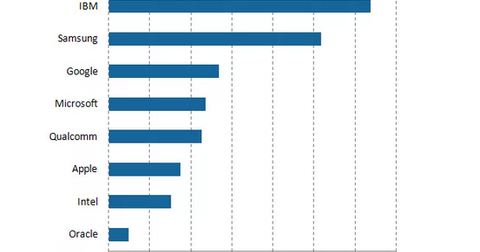 IBM Aims to Boost Its Dominance in Hybrid Cloud with Cleversafe
By Anne Shields

Oct. 22 2015, Updated 1:04 p.m. ET
Cleversafe will boost IBM's position in hybrid cloud space
Previously in this series, we discussed IBM's (IBM) acquisition of Cleversafe, and its proposed integration with IBM's cloud portfolio, which comprises primarily of SoftLayer. In June 2015, IBM acquired Blue Box with the intent to retain its dominance in the hybrid cloud space.
Let's try to analyze how Cleversafe will enhance IBM's strategy to retain its dominance in the hybrid cloud space. With more that 350 patents for its on-premises object storage technology, which can scale to store multiple petabytes of data, Cleversafe will greatly enhance IBM's patents portfolio. As the above chart shows, among technology companies, IBM continues to lead in number of patents awarded in 2015, followed closely by Samsung (SSNLF).
Article continues below advertisement
As Cleversafe's technology enables storage of files as a single, complete object rather than use of algorithms to split the data into smaller pieces and reassemble it as required, it is relatively cheaper and more scalable than traditional file-based systems. Therefore, it will provide IBM customers with more flexibility in how they allocate and manage stored data on-premises and across a wide range of cloud deployments.
IBM stated that with the integration of Cleversafe into its cloud portfolio, users of its SoftLayer cloud service as well as Bluemix developer PaaS (platform-as-a-service) can now create apps with Cleversafe-based content and data repositories for their foundation.
IBM's strategic initiatives to boost its hybrid cloud
According to a Synergy Research Group report, though Amazon (AMZN) leads the overall cloud space with a 28% market share, followed by Microsoft (MSFT) and IBM holding 10% and 7%, respectively, it is IBM that leads the hybrid cloud space. Being a leader in this space, IBM needs to continue to enhance and strengthen its hybrid cloud portfolio.
According to Gartner, 50% of all large enterprises are expected to deploy hybrid clouds by 2017. Moreover, Synergy Research stated that IBM's SoftLayer is the third-largest public cloud in the market.
Article continues below advertisement
In the past, IBM has revealed that through integration of its SoftLayer with its System z and Power Systems, the company intends to keep its focus on hybrid clouds. Hybrid clouds can connect the cloud to on-premises environments and are increasingly becoming a standard enterprise cloud configuration choice. In continuation of its $1.2 billion cloud services investment strategy, IBM announced that it aims to open 40 SoftLayer cloud data centers in 2015.
In fiscal 2Q15, IBM's storage hardware revenue fell 10% on a year-over-year basis. IDC estimates show that IBM's external disk storage market share fell to 11.1% in 2Q15 from 12.1% in 2Q14. Flash or hybrid storage startups and contract manufacturers that sell services to cloud providers have gained share. In February, IBM promised to invest over $1 billion in storage software over the next five years.
If you're interested in IBM, you can invest in Technology Select Sector SPDR ETF (XLK). XLK invests 3.5% of its holdings in IBM.