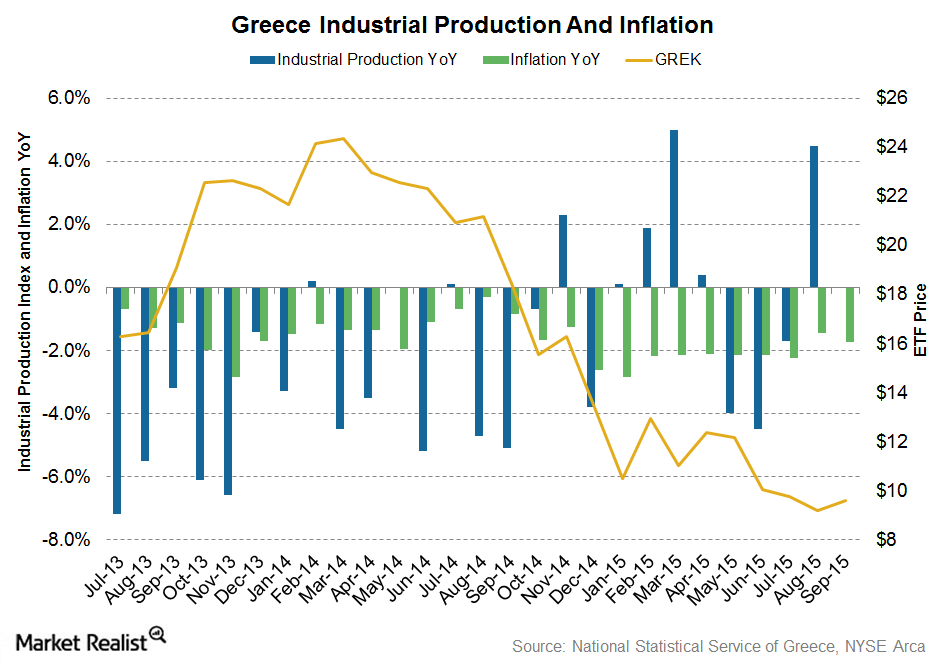 Greece's Mixed Bag: Industrial Production and Negative Inflation
By Lara Sheldon

Nov. 20 2020, Updated 3:55 p.m. ET
Greece's industrial production has risen by 4.5% in the last year
Greece is primarily a service-based economy, with services contributing about 82.8% to the GDP (gross domestic product). However, industrial production remains an important gauge of economic activity. Greece's IIP (index of industrial production) rose 4.5% in August 2015 from August 2014. It rose 4.1% in August 2015. The Global X FTSE Greece 20 ETF (GREK) was up 2.3% as of October 9. The ETF has fallen 40.7% over the past year.

The rise in industrial production was mainly led by a 4.2% rise in manufacturing activity in sectors such as beverage, tobacco, textiles, paper and paper products, basic pharmaceutical preparations and products, and electrical equipment industries. The 6.1% fall in production of mining quarries contributed to reductions. There was a 9.0% increase in electricity production and 0.1% in water supply.
Shipping companies such as FreeSeas (FREE), Diana Containerships (DCIX), and DryShips (DRYS) fell 57.7%, 14.1%, and 23.1%, respectively, over the past month as of October 9. Conversely, Capital Product Partners (CPLP) rose 0.59% over the same period.
Article continues below advertisement
Greece inflation fell to -1.7% in September 2015
From September 2014 to September 2015, Greece's inflation fell to -1.7% YoY (year-over-year). A fall in housing rental prices and automotive fuel prices contributed to reduced inflationary pressure in Greece. With falling inflation and high debt level of 177.1% to GDP (gross domestic product) in 2014, the National Bank of Greece's (NBG) American depositary receipt has taken a nosedive of 74.8% over the past year as of October 9.