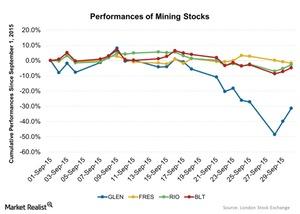 Glencore Rises and Chinese Consumer Sentiment Reaches a Year High
Glencore moved up, leading EWU by 14.08%
Glencore (GLEN) emerged as the top performer of the iShares MSCI United Kingdom ETF (EWU), gaining 14.08% on Wednesday, September 30, 2015. The mining company had recently taken a hit due to a slump in commodity prices and the global challenges of the mining sector.
Analysts and investors were skeptical about the debt piles on Glencore. However, the company rebounded on Tuesday, September 29, and continued its upward trend when its spokesperson made assurances about its robust operations and financials.
On Wednesday, September 30, Glencore shared financial details such as letters of credit amounting to billions of dollars with its investors and reassured them about the company's financial strength.
The above graph shows Glencore's performance against mining stocks like Rio Tinto (RIO), BHP Billiton (BHP), and Fresnillo (FRES) that yielded 2.81%, 2.66%, -0.84%, respectively, on Wednesday, September 30.
The other two stocks accompanying Glencore in the top three were Sainsbury's (J)(SBRY) and Aggreko (AGK). The stocks returned 13.82% and 8.56%, respectively, on Wednesday, September 30.
The stocks at the bottom were Fresnillo, Friends Life Group (FLG), and BG Group (BG). The stocks yielded -0.84%, 0.00%, and 0.15%, respectively, on Wednesday, September 30.
Article continues below advertisement
Chinese consumer sentiment
According to the Westpac MNI China Consumer Sentiment Indicator, consumer sentiment in China rose to its highest in over a year in September 2015. The reading increased by 1.5% to 118.2 in September from August, which was the strongest measure since May 2014.
This economic indicator points to a consumption increase in China and positive news for companies in the United Kingdom and the United States that rely on exports to China for their revenue.
The news definitely boosted the stock markets across the world on Wednesday, September 30. Stocks of Carnival (CUK), Diageo (DEO), and Unilever (UL) rose on the day.
To read about natural gas and its price movements, visit our series Will Inventory and Production Data Pressure the Natural Gas Market?