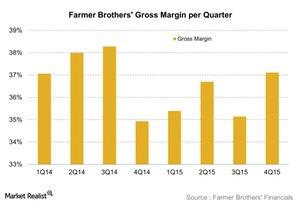 Farmer Brothers' Relocation Plans and Improved Gross Margin
By Sushree Mohanty

Dec. 4 2020, Updated 10:53 a.m. ET
Gross margin improved
Farmer Brothers' (FARM) gross profit in 4Q15 increased by $3.7 million, or 8.2%, to $49.2 million. It recorded a 4Q14 gross margin of $45.5 million. An increase in net sales from higher prices for roast and ground coffee as well as other beverage products contributed to the increase in gross profit. A decline in net sales of the company's tea products partially compensated for the difference in gross profit in 4Q15 compared to 4Q14.
Gross margin measures the percentage of revenue left after paying all direct production expenses. Gross profit as a percentage of net sales, or gross margin, increased 220 basis points to 37.1% in 4Q15 from 34.9% in 4Q14.
Article continues below advertisement
Gross profit in 4Q15 included the beneficial effect of liquidating LIFO inventory quantities of $1.7 million. It also included the result of a reduction in inventories at the end of fiscal 2015. The consolidation of the company's Torrance coffee production with coffee production in Houston during the quarter reduced inventory levels. In the same period in the prior year, there was no beneficial effect of the liquidation of LIFO inventory quantities.
Plan ahead for corporate relocation
Michael H. Keown, Farmer Brothers' president and CEO, stated, "Our corporate relocation plan is currently on track. In May, we successfully moved the coffee roasting, grinding and packaging functions that were previously conducted in Torrance to our Houston production facility, and in August we celebrated the groundbreaking ceremony for the construction of our new state-of-the-art coffee production, distribution, and headquarters facility in Northlake, Texas."
Article continues below advertisement
With respect to the corporate relocation plan, an estimated $25 million in aggregate cash costs is expected to be incurred. Of this, the company incurred $10.4 million in fiscal 2015. This included $6.5 million in employee retention and separation benefits and $0.6 million in facility-related costs. These costs involved the relocation of certain distribution center operations. An additional $3.3 million was spent on related costs like travel, legal, consulting, and other professional services.
Facility-related costs included $0.3 million in non-cash depreciation expenses associated with the Torrance production facility. The company also plans to incur certain other non-cash asset impairment and pension costs that aren't yet determined. In July, the company entered into a lease agreement for the construction of a 538,000-square-foot facility on 28.2 acres of land located in Northlake, Texas. It expects the completion of the construction and relocation to the new property by the end of the second quarter of fiscal 2017. Meanwhile, the company expects to complete the process of transferring its primary administrative offices from Torrance to a leased 32,000-square-foot temporary office space in Fort Worth, Texas, by the end of the second quarter of fiscal 2016.
In the processed and packaged goods industry, Farmer Brothers' competitors include Hormel Foods (HRL), Tyson Foods (TSN), and Hershey (HSY). These companies reported gross margins of 18.7%, 9.8%, and 46.6%, respectively, in their last reported quarter. The Power Shares S&P 500 High-Quality Portfolio (SPHQ) and the First Trust Large Cap Growth Opportunities Alpha DEX Fund (FTC) invest 1.4% and 0.95% of their respective portfolios in HRL stock.