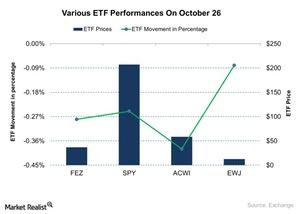 How EWJ Performed with Respect to the Global Economy
By Sarah Sands

Nov. 20 2020, Updated 12:08 p.m. ET
Effect of ECB statement
After the ECB's (European Central Bank) statement on October 22, most of the ETFs such as the SPDR Euro Stoxx 50 ETF (FEZ), the SPDR S&P 500 ETF (SPY), the iShares MSCI All Country World Index (ACWI), and the iShares MSCI Japan ETF (EWJ) rose ~1%–2% on October 23.
The ECB declared that it will keep its key benchmark interest rate constant at 0.050%. Accordingly, a separate trillion-euro bond-buying program is expected to start in December to stimulate the economy. If most economic indicators continue to move as expected by the ECB, we could see a rate hike soon.
Article continues below advertisement
The Bank of Japan (BOJ) surprisingly eased its monetary policy during last October's review to boost its financial market and economy, which has indeed boosted the market. Investors in Japanese equity will be eagerly awaiting the Bank of Japan's monetary policy review on Friday, October 30. We can expect the sectoral performance of the EWJ to be affected by the release of the BOJ statement on October 30. Among all the sectors, the financial sector stands to be affected the most by the BOJ statement.
Japan's average inflation in 2015 is 1.1%. The Bank of Japan has set an inflation target of 2% for 2015. Low inflation makes the country's currency stronger, and high inflation makes the currency weaker. The Japanese government's main goal is to weaken the yen to boost the economy. It is currently trading at $0.0083. The country wants to make its currency weaker to boost its exports. In September, Japan's exports rose by 9.1% from August.
How EWJ performed with respect to the global economy on October 26
On October 26, FEZ fell 0.28% to close at $36.85, and SPY fell 0.25% to close at $207. ACWI fell 0.39% to close at $58.29, and EWJ fell 0.08% to close at $12.50. The above graph shows various ETF performances on October 26.
ACWI is invested in large and giant capitalization stocks such as Apple (AAPL), Microsoft (MSFT), ExxonMobil (XOM), Johnson & Johnson (JNJ), and Wells Fargo (WFC). SPY is also invested in large capitalization stocks such as Apple (AAPL), Microsoft (MSFT), Johnson & Johnson (JNJ), General Electric (GE), and J.P. Morgan (JPM).
The market sentiment shows that all market participants were waiting for this week's FOMC (Federal Open Market Committee) meeting.
Read the Market Realist series titled "EWJ Was up on Increase in Japanese Flash Manufacturing PMI" to learn more about Japan.