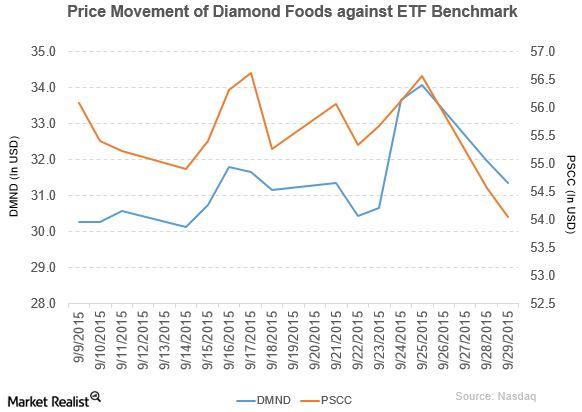 Diamond Foods: Organic Growth Boost the Revenue
By Gabriel Kane

Oct. 1 2015, Published 10:09 a.m. ET
Diamond Foods' price movement
Diamond Foods (DMND) has a market cap of $986.58 million. Its YTD (year-to-date) price movement is a mix of ups and downs. After the earnings report in 4Q15, Diamond Foods fell by 1.97% to close at $31.34 per share. The price movement on a weekly, monthly, and YTD basis is 2.99%, 5.27%, and 11.02%, respectively. It's trading at 2.18% on a trailing five-day basis.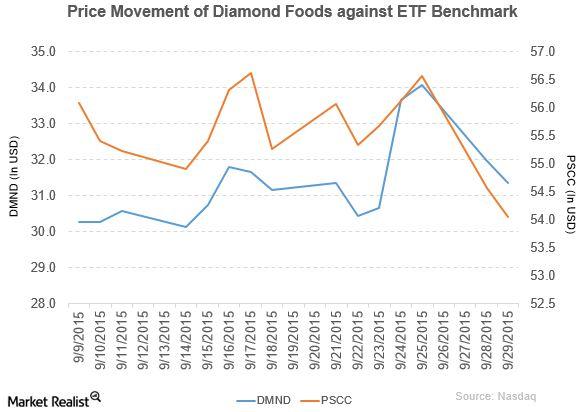 At times, it has broken all of the major supports. Currently, it's trading at 0.93% above the 20-day moving average, 0.35% above the 50-day moving average, and 4.99% above the 200-day moving average.
Article continues below advertisement
The PowerShares S&P SmallCap Consumer Staples Portfolio ETF (PSCC) invests 5.41% of its holdings in Diamond Foods. PSCC tracks a cap-weighted index of Consumer Staples stocks selected from the S&P SmallCap 600. PSCC's YTD price movement is 0.42%. The PowerShares Dynamic Food & Beverage Portfolio (PBJ) invests 2.85% of its holdings in Diamond Foods.
Diamond Foods' competitors and their market caps are:
Diamond Foods' performance in 4Q15 and fiscal 2015
According to Diamond Foods' 4Q15 earnings report, the net revenue rose to $201.810 million—a rise of 8.46% on a quarterly basis. Snacks' revenue rose by 13.97%. Nuts' revenue fell by 2.41%. The gross profit and EPS (earnings per share) rose to $54.489 million and $0.25 per share in 4Q15—a rise of 2.89% and 25% compared to the gross profit and EPS of $52.957 million and $0.20 per share in 3Q15.
In fiscal 2015, the company reported net revenue of $864.165 million—a fall of 0.12% on a yearly basis. Snacks' revenue rose by 1.47%. Nuts' revenue fell by 2.05%. The net profit and EPS was $33.030 million and $1.04 per share. The current ratio rose to 2.07 in fiscal 2015—compared to the current ratio of 1.82 in fiscal 2014. The debt-to-equity ratio fell to 2.05 in fiscal 2015—a fall of 8.48% on a yearly basis.
On July 15, 2015, Diamond Foods opened a new innovation center in Salem, Oregon, to drive new products for all of Diamond's brands.
About Diamond Foods
Diamond Foods is a snack food and culinary nut company. The company's main focus is on innovation, convenience, and producing delicious snacks and culinary nuts for its customers. It sells products under five brand names—Diamond of California, Kettle Brand, Kettle Chips, Emerald, and Pop Secret. The company has five premium product lines—potato chips, snack nuts, popcorn, in-shell nuts, and culinary nuts.