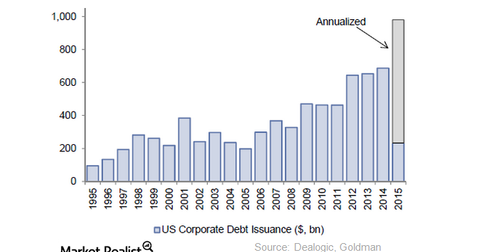 Dell's Buyout of EMC: Another Big LBO Deal
By Anne Shields

Updated
Dell's funding for the EMC acquisition
Previously in this series, we discussed Dell's (DELL) proposed acquisition of EMC Corporation (EMC) for $67 billion. In addition to this being the largest acquisition to date in the technology space, the deal would also be the third-largest acquisition in all sectors in 2015.
But now we must come to the question of financing. According to the Wall Street Journal, Dell and Silver Lake Partners are considering the debt market to raise the $40 billion they will need to fund the acquisition. The Carlyle Group's acquisition of Symantec's Veritas has been by far the biggest LBO (leveraged buyout) deal in the United States in 2015 to date.
Article continues below advertisement
2015 saw a record high in debt issuance
There have reportedly been more private-equity takeovers worth more than $5 billion so far in 2015 than there were in the whole of 2014. In an LBO, the acquisition is funded by taking on debt or borrowing funds. Before Carlyle's $8 billion offer for Veritas, the $5.3 billion LBO of Informatica was the largest US LBO in 2015.
In late September 2015, JP Morgan Chase reduced its planned high-yield bond sale, backing Altice NV's purchase of Cablevision Systems Corporation to $4.8 billion from $6.3 billion. But it had to make up the difference by selling more debt in the loan market. A Wall Street Journal report stated that Goldman Sachs Group and JP Morgan are struggling to sell $1.2 billion worth of loans backing the LBO of FullBeauty Brands, an online clothing retailer.
This fall in debt prices has forced various large-debt deals to be scaled back. In 2015, bond issuance to date has already exceeded 2014's acquisition-related debt issuance volumes.
US corporate debt issuance is also expected to hit a record high in 2015, on the back of an ongoing increase in M&A (mergers and acquisitions) activity, sponsor-backed IPOs (initial public offers), share buybacks, and increasing dividends.
In April 2015, Oracle Corporation (ORCL) issued six-part $10 billion notes, which was the fourth largest deal in 2015. Actavis, AT&T (T), and Microsoft Corporation (MSFT) made the largest bond sales in early 2015. In April 2015, AT&T sold $17.5 billion worth of bonds to finance its DIRECTV deal. Qualcomm (QCOM) was another technology player who resorted to bond sale to finance its share buybacks and dividends.
Please read Why Bond Investors Are Skeptical about Oracle's Bond Issuance to know more.
You can consider investing in the SPDR S&P 500 (SPY) to gain exposure to the technology sector. The ETF invests about 18% of its holdings in the technology sector.
In the next and final part of this series, we'll look further into why Dell is considering a leveraged buyout for its proposed acquisition of EMC.