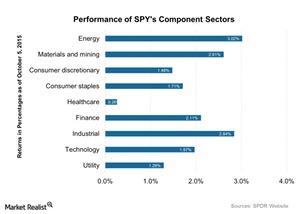 Commodity Prices Soared Due to the Strong Stock Markets
Sector performances
All of the nine sectors of the SPDR S&P 500 ETF (SPY) continued their rally on Monday, October 5, 2015. The rebound in the stock markets took place when the uncertainty over the rate hike settled down and boosted the commodity prices. On October 5, there was a rise in the material sector, the energy sector, and the industrial sector.
Article continues below advertisement
Energy
The above graph shows that the energy sector rose 3.02% on Monday, October 5. The rise in the sector is attributed to the rise in crude oil prices. Crude oil prices rose due to Russia's readiness to meet with other oil producers and discuss the oil market dynamics and prices. Russia is the world's third-largest oil producer.
Russia's willingness to meet OPEC (Organization of the Petroleum Exporting Countries) and non-OPEC countries about oil prices is important strategically. The news boosted oil prices as well as energy-related stocks. The United States Oil (USO) rose 1.56% on the day. In contrast, the World Bank stated that it expects China's growth to be 7% this year. It's speculated that more monetary stimulus may be introduced in the Eurozone to bolster the economy. This will benefit the energy and mining sectors since China is the world's second-largest energy and metal consumer.
The top energy stocks were Denbury Resources (DNR), CONSOL Energy (CNX), and Marathon Oil (MRO). The stocks returned 13.07%, 9.04%, and 8.34%, respectively, on October 5.
Metals and mining
The low-interest rates and the vibrant stock market pushed the commodity prices up. The strong dollar and upbeat stock market might have reduced the spot gold prices represented by the SPDR Gold Shares (GLD) by 0.20%. However, the gold mining companies represented by the VanEck Vectors Gold Miners ETF (GDX) continued an upward trend by 4.35% on October 5. Copper rose 0.93%. It's represented by the United States Copper Index (CPER). The Global X Copper Miners ETF (COPX) rose 6.94% on the day.
Next, we'll look at the key stock players on Wall Street on Monday, October 5.