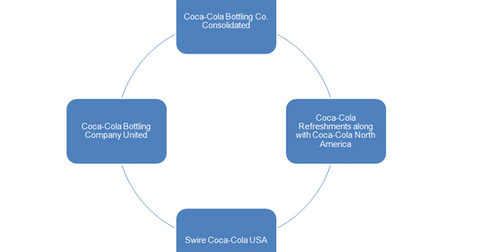 Coca-Cola's National Product Supply System: Assessing New Objectives
By Sirisha Bhogaraju

Updated
New supply system
On September 24, The Coca-Cola Company (KO) announced that it will form a National Product Supply System that will optimize its operations in the US. Under this new system, three independent bottlers, Coca-Cola Bottling Co. Consolidated (COKE), Coca-Cola Bottling Company United, and Swire Coca-Cola USA, along with Coca-Cola Refreshments and Coca-Cola North America, will become members of the National Product Supply Group, or NPSG. These members account for ~ 95% of Coca-Cola's US production volume.
Article continues below advertisement
Objectives of the new supply system
The formation of a new supply system should help Coca-Cola leverage the strengths of the company-owned Coca-Cola Refreshments and the three independent bottlers. Coca-Cola's National Product Supply System will help achieve the following objectives:
manufacture products at the lowest optimal cost
help in building sustainable capability
focus on quality, service, and innovation
Under the letters of intent between the concerned parties, National Product Supply System bottlers are expected to acquire certain production facilities from Coca-Cola Refreshments within their transitioning distribution territories. We mentioned the nine production facilities that will be acquired by these three bottlers in the first part of this series.
Cost reduction and resource optimization are vital for Coca-Cola as it continues to deal with softness in demand for carbonated soft drinks, or CSD, in the US. In 2Q15, Coca-Cola's revenue declined by 3.3% on a year-over-year basis. Aside from weak soda demand, Coca-Cola's top line is also facing the brunt of the strengthening of the US dollar against major currencies. Coca-Cola constitutes 8% of the portfolio holdings of the Vanguard Consumer Staples ETF (VDC) and 7.6% of the iShares Dow Jones US Consumer Goods (IYK).
The 2Q15 revenue of PepsiCo (PEP) fell by 5.8% from the comparable quarter of the previous year due to the impact of currency headwinds. The net sales of Dr Pepper Snapple Group (DPS) increased by 1.5% in 2Q15, helped by a favorable product, package, and segment mix, not to mention higher volumes. Monster Beverage (MNST) reported the slowest sales growth in 2Q15 since March 2010. Monster Beverage's 2Q15 net sales were impacted by adverse currency movements and the transition of its distribution rights from third-party bottlers to Coca-Cola.
In the next part of this series, we will take a look at Coca-Cola's refranchising efforts in 2015.