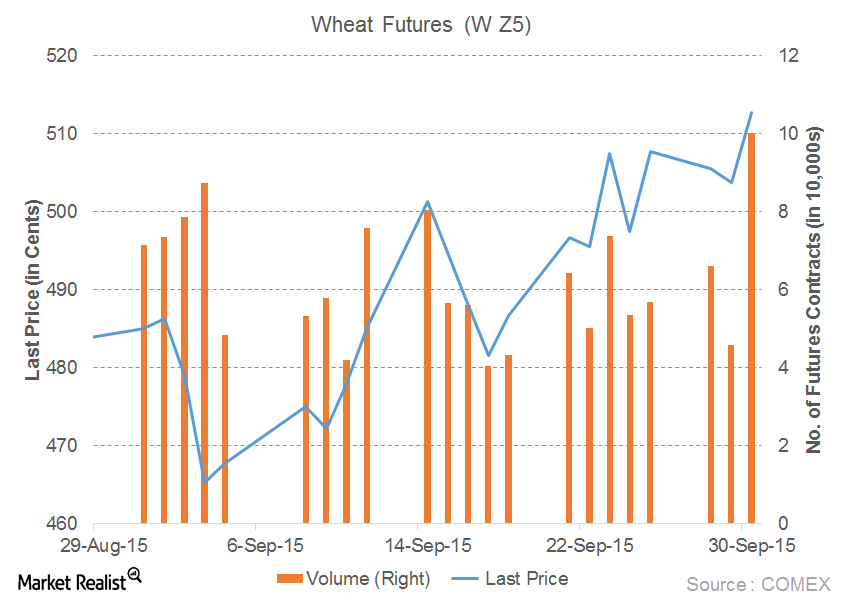 Can Wheat's Price Rise Survive Its Lower-than-Expected Inventory?
Wheat prices rise
December CBOT (Chicago Board of Trade) wheat futures prices surged by 1.79% and settled at $5.12 per bushel on September 30, 2015. Wheat prices rose due to a lower-than-consensus USDA (U.S. Department of Agriculture) quarterly inventory report. Following wheat futures prices on CBOT, the Teucrium Wheat Fund (WEAT) increased by 1.61% on September 30, 2015.
In the USDA's quarterly inventory report released on September 30, 2015, actual wheat inventories were lower than traders' consensus expectations of 2.149 billion bushels. The 2.089 billion bushels of actual wheat crop inventories were 2.79% lower than consensus expectations, which decreased supply pressure from wheat prices. Therefore, wheat prices rose on September 30, 2015.
Article continues below advertisement
Wheat export expectations for the week ending September 24, 2015, released by the USDA on October 1, 2015, were the same as the last report. Wheat export consensus for the week is in the range of 0.25–0.45 million metric tons. Exports for the week ending September 17, 2015, were 283,000 metric tons.
The Dollar Index increased by 1.86% during the week ending September 24, 2015, which may hinder the competency of US wheat.
During the week ending October 3, 2015, the Southern US Plains may receive precipitation, which could help wheat production. It also contributes to additional supply factors that hindered wheat prices on September 30, 2015.
The revised Russian Wheat Export tariffs are ten Russian rubles per metric ton of wheat. This revision has reduced taxes by 80% from 50 Russian rubles per metric ton of wheat.
There was previously no wheat export duty in Russia. As a measure to restrict the rising bread prices in Russia, export taxes were implemented, which was originally a temporary decision. According to the Russian Agriculture Ministry's September 18 report, the cost of this decision has been a 30% reduction in wheat exports.
Arkady Zlochevsky, President of the Russian Grain Union, has expressed his positive expectation for erasing the wheat export tax by the government. Russian wheat has been competitive with US wheat, hurting US wheat export sales, and it may do so further given its additional tax advantage on October 1, 2015.
Impact on Fertilizer Business
Fertilizer use will rise if wheat prices increase, as farmers would be motivated to use more fertilizers for increasing production. It might result in a marginal increase in fertilizer sales for companies like Mosaic (MOS), Terra Nitrogen (TNH), Potash (POT), and CF Industries (CF).
Shares of these companies increased on September 30, 2015. The Materials Select Sector SPDR ETF (XLB) also rose by 2.1%.