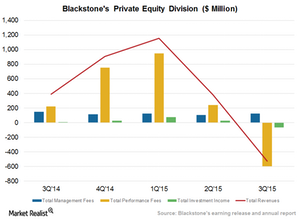 Blackstone Posts Loss in Private Equity Portfolio
Core business falls
In its 3Q15 earnings release on October 15, Blackstone (BX) reported an economic loss of $512.5 million in its private equity division, with total revenues being -$524.5 million, as compared to $387.9 million in the corresponding quarter last year. The fall in profitability was mainly due to a rout in domestic equity (SPY), as well as global equity markets on concerns related to slowness in China (EEM). The company's holding in Hilton Worldwide (HLT) lost more than $2 billion in value. The division's assets under management expanded by 31% to $91 billion when compared with the corresponding quarter last year. Its fee earnings from assets under management expanded by 15% to $50 billion during the same period.
Article continues below advertisement
Blackstone's private equity portfolio depreciated by 2.3%, mainly due to a fall in public investment values. The portfolio rose 7.7% year-to-date and 8.5% LTM (last 12 months), outpacing broader market indices. The division's performance and investment income fell to -$594 million and -$63 million, respectively.
Realizations and investments
Blackstone achieved total realizations of $2.7 billion during 3Q15 on public and strategic exits in corporate private equity funds. Its major transactions included:
completion of the private sale of Center Parcs, CMS Info Systems, and Agile Electric
public share sales of Summit Materials (SUM), Michaels Stores, and Scout24
the announcement of the strategic sales of AVINTIV, SunGard Data Systems, and Vivint Solar (VSLR), expected to close later this year
Blackstone raised commitments of $3.7 billion for tactical opportunities and corporate private equity mandates. The company has also launched fundraising for the seventh secondary fund. The company deployed new capital of $1.7 billion during the quarter and committed an additional $1.2 billion for new investments and accretive add-on acquisitions to the portfolio.