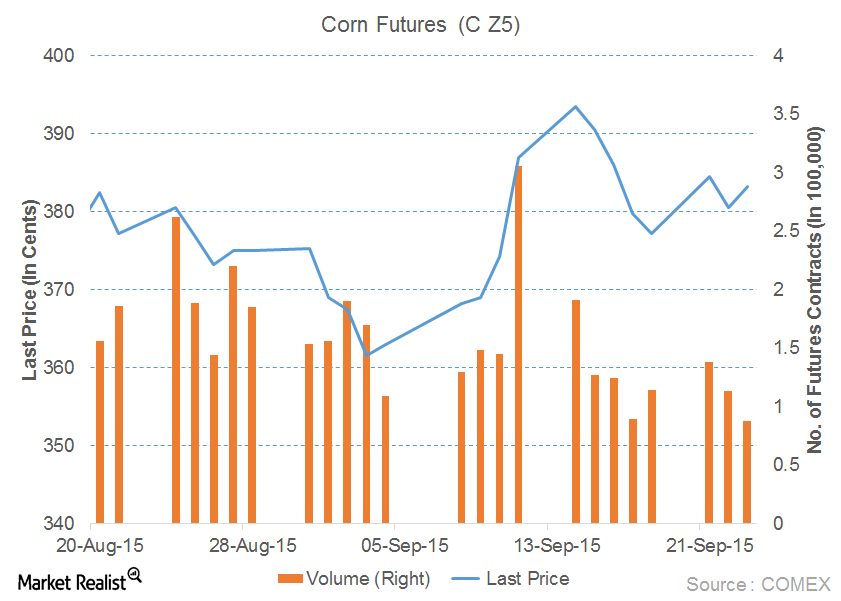 Will Unfavorable Weather Affect the Corn Harvest?
Corn prices increase
December CBOT (Chicago Board of Trade) corn futures contracts marginally increased by 0.72% and settled at $3.83 per bushel on September 23, 2015. Corn futures prices rose on unfavorable weather, a weak US dollar, and expected higher export demand.
ETFs like the Teucrium Corn ETF (CORN) rose 0.52% following CBOT on September 23.
The harvest expectation in the week ending Sunday, September 27, 2015, might be slowing down. The expected rainy weather in the US Midwest will slow down the harvesting process, affect the quality, and reduce the pressures of additional supply. This will release the pressure from corn prices, which might continue to affect prices until the end of the month.
The US Dollar Index fell 0.24% on September 23, 2015, benefiting dollar-denominated commodities. Since US corn is a US dollar-denominated commodity, it will be cheaper for exports. It will also reduce pricing pressures from corn prices. Corn futures prices rose on September 23, 2015.
According to an AACREA (Argentine Association of Regional Consortiums for Agricultural Experimentation) report released on September 23, 2015, South American corn production will suffer due to the increase in soybean planting.
Article continues below advertisement
According to a report by Michael Cordonnier, president of Soybean and Corn Advisor, soybeans might rise 3.4% to 60.08 million hectares in planting at the cost of 2% to 19.808 million hectares of corn planting. Argentina will be increasing soybean planting 2% to 20.9 08 million hectares at an expense of 13%, to 2.808 million hectares of corn.
The reason might be that marketing year 2015 wasn't able to cover the costs. Average corn yield was 75% below costs, and soybean yielded 40% below costs. US corn might have a greater market, and with this expectation, corn prices rose on September 23, 2015.
Impact on business units
Input cost for food companies like Bunge (BG), ConAgra Foods (CAG), Tyson Foods (TSN), and Archer-Daniels Midland (ADM) increased with the rise in corn prices. ConAgra Foods and Tyson Foods rose, while Bunge and Archer-Daniels Midland fell on September 23. The Materials Select Sector SPDR ETF (XLB) fell on September 23 with the decrease in corn prices.