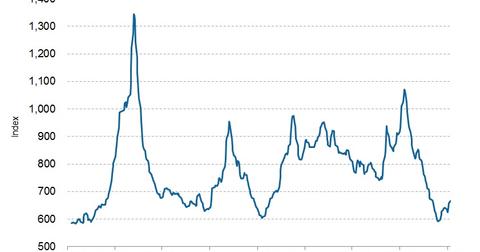 VLCC Rates Continue Up Run, Suezmax Rates Also Rise
By Sue Goodridge

Updated
Baltic Dirty Tanker Index
For the past three days, the BDTI (Baltic Dirty Tanker Index) has shown a rising trend. It reached 671 points on September 21. The index stood at 629 points for the week ended September 15, 2015.
The BDTI tracks shipping rates for the transportation of crude oil (DBO) on representative routes. Researchers and analysts follow this index to assess companies' revenue and earnings potential.
Article continues below advertisement
VLCC and Suezmax rates
According to the Weber weekly tanker report, VLCC (very large crude carrier) rates on the representative route—the Gulf to Japan—increased to $70,409 per day for the week ended September 18. This compares to $49,498 per day for the prior week.
For the past few weeks, VLCC rates were trending up, although a similar trend wasn't seen in the Suezmax market. But last week, there was also an uptick in Suezmax tankers. The average Suezmax rate rose to $27,864 per day for the week ended September 18 compared to $25,889 per day the previous week.
Tanker stock performance
Strong tanker rates have given crude tanker investors a reason to cheer, as all crude tanker stocks have risen over the last week. Tsakos Energy Navigation (TNP) recorded the highest gain of 12% on September 21 compared to stock prices a week ago on September 14. For the same period, Frontline (FRO) and Teekay Tankers (TNK) rose 11% and 8%, respectively. Both Nordic American Tanker (NAT) and Euronav (EURN) saw their stock price rise by 10%.
Why did tanker rates rise?
Asian refinery margins have shown a recovery after a sharp fall in July. This has increased OPEC's (Organization of the Petroleum Exporting Countries) demand for crude oil by Asian countries. This has increased the spot chartering activity in the West African market, which has pushed up VLCC rates.
Suezmax rates have also rebounded. Oil demand by Asian countries is expected to continue in the coming week as refineries prepare for the peak season in November. There will be bullish sentiments in the tanker industry.