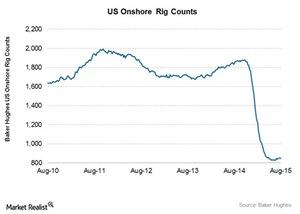 Texas Defied Last Week's US Onshore Rig Count Decrease
By Alex Chamberlin

Updated
US onshore rig count
During the week ended August 28, 2015, the US onshore rig count fell by six from the previous week's count. Last week, there were 843 land-based (or onshore) rigs, including four inland water rigs. Inland water rigs decreased by two last week. In a state-wise breakup of rigs, only Texas added onshore rigs last week. In comparison, five states lost onshore rigs last week.
The US onshore rig count was on a continuous slide until the week ended May 22. It had fallen for 25 straight weeks.
Article continues below advertisement
Most prolific states
In the 12 months ended August 28, 2015, the land-based US rig count fell by 1,001, or 54%. The number of active land-based rigs decreased the most in Texas, where 512 rigs shut down. North Dakota lost 111 rigs over those 12 months. Despite losing a significant number of rigs in the past year, Texas still has the most land-based rigs in the United States with 386, or 46%, of the total. Oklahoma is next, with 105 land-based rigs, and North Dakota follows with 72.
Onshore rig count records
The onshore rig count hit a record high of 1,992 on November 4, 2011, the highest number of rigs in operation since January 1990, according to Baker Hughes. Then, the onshore rig count reached 1,876 in the week ended November 21, 2014. In total, 1,029 onshore rigs have gone offline since then, representing a fall of ~55%.
Impact on energy companies
The total onshore rigs in operation mainly reflect the US shale boom. Apart from oil and gas companies, the falling rig count can negatively affect oilfield service companies. These companies provide various land-based and offshore drilling services and technologies. They include Cameron International (CAM), FMC Technologies (FTI), Dresser-Rand Group (DRC), and Weatherford International (WFT). Cameron International forms 0.07% of the SPDR S&P 500 ETF (SPY).
Decreasing rig count could also potentially hurt midstream MLPs like Targa Resources Partners (NGLS), Sunoco Logistics Partners (SXL), Boardwalk Pipeline Partners (BWP), and Energy Transfer Partners (ETP) in the long term. Falling rigs could decrease these companies' throughput volumes.