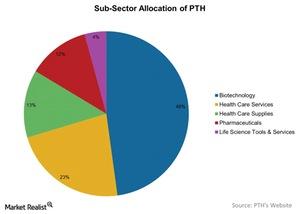 PTH: A Momentum-Based ETF
By Ivan Kading

Sep. 17 2015, Updated 9:30 a.m. ET
Momentum strategy
In layman's terms, momentum is the rate at which a stock price follows a trend. Stock prices can follow both upward and downward momentums.
Many indexes select stocks on the basis of the momentum they exhibit. The PowerShares DWA Healthcare Momentum ETF (PTH) is one such ETF. PTH seeks to mimic the investment results of the Dorsey Wright Healthcare Technical Leaders Index, selecting stocks based on their momentum.
Since it modifies a traditional index, using momentum to create its index, we can classify PTH as a smart beta fund. PTH is also a sector-specific fund, focusing on healthcare stocks.
For detailed analysis of other ETFs that include momentum as a factor for selecting stocks, read Momentum ETFs: A Modern Investor's Tools.
Article continues below advertisement
Ranking stocks based on momentum
Almost half of PTH's stock holdings come from the biotechnology sector. The underlying index of PTH consists of 30 healthcare stocks, all of which have relatively high momentum. The momentum of each stock is measured in comparison to its benchmark or peers.
The index provider selects healthcare stocks from a pool of ~2,000 of the largest constituents by market capitalization within the NASDAQ US Benchmark Index. The index assigns a rank according to its upward momentum. The index then includes the top 30 ranked stocks from this universe in its portfolio. PTH has an expense ratio of 0.63%.
Focus on healthcare companies
PTH, according to its principal investment strategies, invests 90% of its net assets in the components of its index. The remaining 10% is actively managed. As of September 8, 2015, PTH's AUM (assets under management) total $245 million.
The top five holdings of PTH are Regeneron Pharmaceuticals (REGN), Allergan (AGN), Cigna (CI), Incyte (INCY), and Medivation (MDVN). In total, these stocks represent 24% of PTH's holdings.
In the next part of the series, we will conduct an in-depth comparison of PTH with its peers.