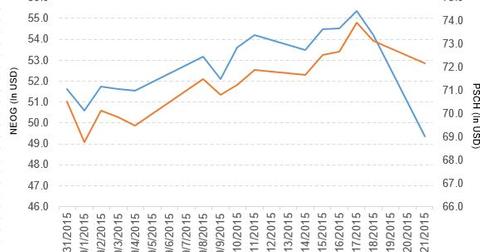 Analyzing Neogen's Performance in 1Q16
By Gabriel Kane

Updated
Neogen's price movement
Neogen (NEOG) has a market cap of $1.84 billion. The company's YTD (year-to-date) price movement was stable until the last three months of 2015. After the 1Q16 earnings report, Neogen fell by 8.91% to close at $49.36 per share. The price movement on a weekly, monthly, and YTD basis is -7.69%, -5.24%, and -0.46%, respectively. It's trading at -9.38% on a trailing five-day basis.
Technically, it has sometimes broken all of the major support. Currently, it's trading at -6.24% below the 20-day moving average, -8.66% below the 50-day moving average, and 0.68% above the 200-day moving average.
The PowerShares S&P SmallCap Health Care ETF (PSCH) invests 2.20% of its holdings in Neogen. PSCH tracks a cap-weighted index of small-cap healthcare companies taken from the S&P SmallCap 600 Index. PSCH's YTD price movement is 22.41%.
Neogen's competitors and their market caps are:
Article continues below advertisement
Neogen's performance in 1Q16
The company reported net revenue of $74.860 million in 1Q16—a fall of 4.77% on a quarterly basis. The revenue for food safety and animal safety fell by 3.10% and 6.07%, respectively. The cost of sales as a percentage of sales fell by 5.70% in 1Q16. The net income fell to $9.289 million in 1Q16—compared to the net income of $9.433 million in 4Q15. The inventory rose by 8.70% to $56,107 million and the debt-to-equity ratio fell by 2.20% in 1Q16.
On June 1, 2015, the company acquired the assets of Sterling Test House—a leading commercial food testing laboratory. The acquired laboratory will serve as a base for the company's new operations in India. On June 9, 2015, Neogen released an enhanced version of its AccuPoint ATP Hygiene Monitoring System that makes the product the most sensitive and consistent hygiene monitoring test system available.
Article continues below advertisement
On July 7, 2015, the company signed an agreement to expand its relationship with Illumina—the global leader in sequencing and genomics. Under the agreement, Illumina will market and sell arrays with Neogen's custom SNP content, built on Illumina Infinium BeadArray technology, to the global agrigenomics community.
About Neogen
Neogen develops and markets products dedicated to food and animal safety. The company's Food Safety Division markets dehydrated culture media and diagnostic test kits to detect foodborne bacteria, natural toxins, food allergens, drug residues, plant diseases, and sanitation concerns. Neogen's Animal Safety Division is a leader in the development of animal genomics along with manufacturing and distributing of a variety of animal healthcare products including diagnostics, pharmaceuticals, veterinary instruments, wound care, and disinfectants.