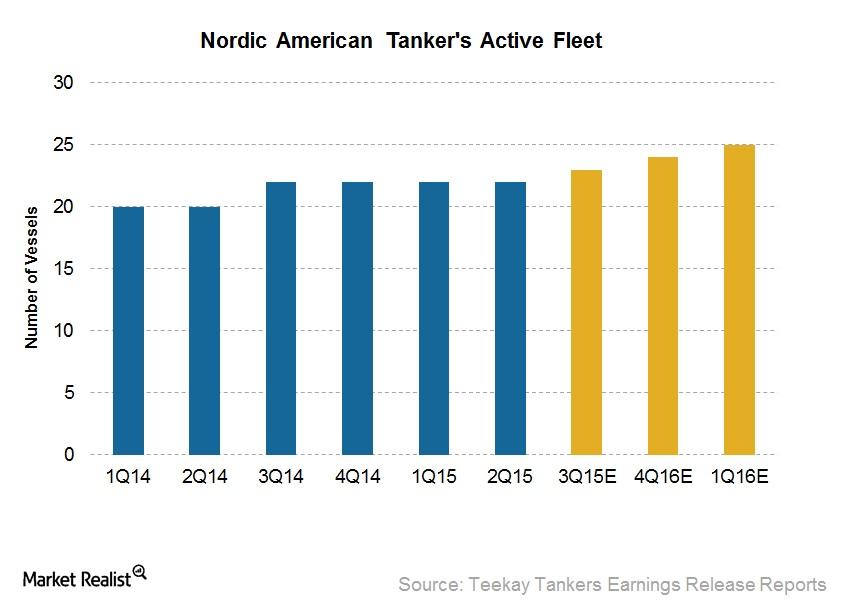 Has NAT's Fleet Increased in the Crude Tanker Industry Boom?
By Sue Goodridge

Sep. 23 2015, Updated 3:10 a.m. ET
NAT's fleet
Nordic American Tankers (NAT), which operates tankers transporting crude oil (DBO), has an active fleet of 22 Suezmax vessels. It has not been aggressive in increasing its fleet, which has remained constant for the past four quarters.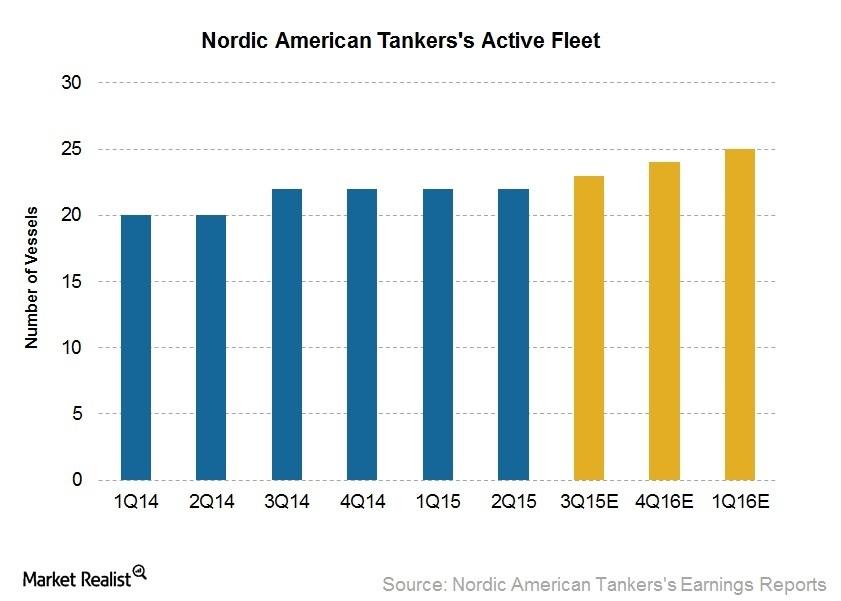 Article continues below advertisement
Fleet changes
In July 2015, NAT announced acquisition of two Suezmax vessels, which will join the fleet in September and October this year. Also, the company had entered into an agreement in December 2014 for construction of two Suezmax vessels for delivery in August 2016 and January 2017. This brings the total number of Suezmax vessels in the company's fleet to 26. The company mentioned it is assessing new investments in an opportunistic manner, so we may see further growth in the company's fleet.
Industry capacity
Tanker companies are negatively affected by newbuilds that enter the market, as they increase the supply of vessels. According to NAT, the total Suezmax fleet stands at 452 vessels, which is an increase of seven vessels this year. The current order book stands at 78 vessels from now through late 2017.
The scrapping activity that reduces the supply of vessels has been very minimal this year. Given the heavy order book, we may see an oversupply of vessels in 2016, which will negatively impact tanker rates. This will increase the scrapping activity to balance supply demand. The companies that have deferred scrapping this year to take advantage of high tanker rates may scrap these vessels once rates fall.
Fleet characteristics
NAT has only one type of vessel—the Suezmax vessel. This makes NAT different from other companies such as Teekay Tankers (TNK), Frontline (FRO), Euronav (EURN), Tsakos Energy Navigation (TNP), and DHT Holdings (DHT), which operate the Suezmax, Aframax, and VLCCs, (very large crude carriers). NAT's management believes that having a homogeneous fleet reduces its operating costs. This, in turn, helps the company to keep its cash break-even cost below $12,000 per day per vessel, according to NAT's management.
NAT has one of the oldest fleets with an average age of 13.2 years. However, the company does not have any vessels over 20 years of age. Considering the average life of a vessel to be 25 years, we may not see any significant scrapping activity in coming years.