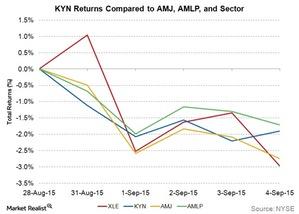 MLP Mutual Fund KYN Outperforms AMJ ETN in Week Ended September 4
By Rekha Khandelwal, CFA

Sep. 9 2015, Published 4:37 p.m. ET
The Kayne Anderson MLP Investment Company
The Kayne Anderson MLP Investment Company (KYN), a closed-end mutual fund, fell 1.9% in the week ended September 4. In comparison, the Alerian MLP ETF (AMLP), an ETF of infrastructure MLPs, fell 1.7% during the week. Midstream MLPs account for 82% of KYN's portfolio.
The broad-market SPDR S&P 500 ETF Trust (SPY) fell 3.4%, and the Energy Select Sector SPDR ETF (XLE) fell 3.0% during the week. The JPMorgan Chase Alerian MLP Index ETN (AMJ), an ETN that tracks a broad index of 50 energy-related MLPs, fell 2.7%.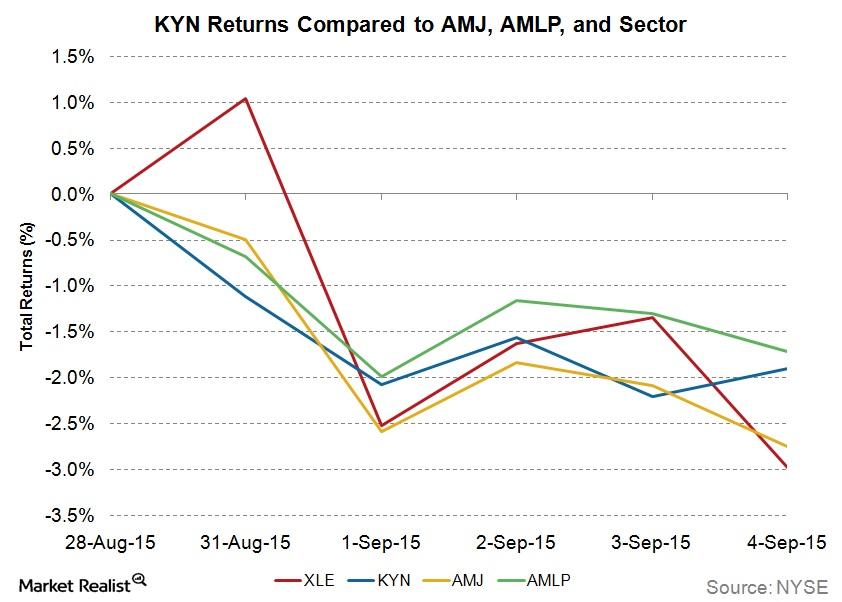 Article continues below advertisement
Mutual funds versus ETFs and ETNs
While ETFs and ETNs are designed to track the performance of some underlying indices, mutual funds are usually designed to follow a certain style of investment—for example, a fund investing in large-cap MLPs. ETFs and ETNs have low management fees, as they are passive investments and just track the underlying index. The returns on ETFs are also generally limited to the underlying index. Factors such as taxes and expense ratios may cause returns to deviate from the index's returns, as we discussed in the first part of this series.
Although mutual fund performance is also monitored against some benchmark, the fund manager decides which companies to invest in, as well as how much to invest in them within the fund's mandate. Mutual fund returns can go higher or lower than the benchmark, which also decides a fund manager's performance. As such, mutual funds generally have higher fees than ETFs or ETNs.
Article continues below advertisement
KYN: A closed-end fund
KYN is a closed-end mutual fund. Closed-end funds have a fixed number of units issued at the time of the initial offer. These units trade on stock exchanges, and they may trade at a premium or a discount to their NAV (net asset value), depending on supply and demand. Open-end funds, on the other hand, don't have a limit on the number of units they can issue or redeem.
KYN invests mainly in energy MLPs and seeks high total returns for its shareholders. The fund doesn't have a stated benchmark. It had a management fee of 2.4% in 2014. The above graph compares KYN's returns for the week with those of AMJ, AMLP, and XLE.
KYN portfolio
Enterprise Products Partners (EPD) and Energy Transfer Partners (ETP) are KYN's biggest holdings. EPD forms 11.6% of KYN, and ETP forms 11.5% of KYN. EPD fell 4.8% and ETP fell 3.7% in the week ended September 4.
Kinder Morgan (KMI), Plains All American Pipeline (PAA), MarkWest Energy Partners (MWE), Buckeye Partners (BPL), and DCP Midstream Partners (DPM) are the other top holdings in KYN. Together, these companies form ~28% of the fund.