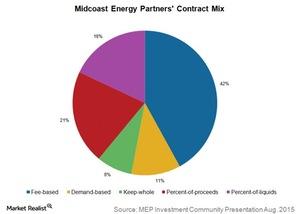 Midcoast Energy Focuses on Contract Mix to Minimize Risk
By Rekha Khandelwal, CFA

Sep. 20 2015, Published 8:11 p.m. ET
Midcoast Energy's fee-based contracts
Midcoast Energy Partners' (MEP) Gathering, Processing, and Transportation segment generates revenues through gathering, processing, and transporting natural gas and NGLs (natural gas liquids). The types of contracts MEP enters into for these services vary.
Around half of MEP's contracts are fee-based and demand-based. These contracts are not affected by changes in commodity prices. Demand-based contracts involve minimum volume commitments.
Article continues below advertisement
MEP's commodity price sensitivity
About 47% of MEP's contracts are commodity price sensitive. These are keep-whole contracts, percent-of-proceeds contracts, and percent-of-liquids contract. The above chart gives a breakdown of MEP's contract types based on the forecast gross margin for the Gathering, Processing, and Transportation segment for 2015.
Under keep-whole contracts, the processing company—here, MEP—generally keeps a portion of the NGLs extracted through fractionation as payment. The company replaces the energy content of the NGLs it has retained with natural gas. So NGL and natural gas prices impact earnings under keep-whole contracts.
In percent-of-proceeds contracts, MEP gathers and processes natural gas on behalf of producer customers. The residue gas and NGLs produced from the processing are sold on the market. The MLP then remits a pre-agreed percentage of these proceeds to the producer and retains the remainder. As a result, the prices of natural gas and NGLs affect MEP's revenue with these types of contracts. Under percent-of-liquids contracts, the processing MLP receives a percentage of only the NGLs produced.
Percent-of-proceeds contracts account for nearly 85% of ONEOK Partners' (OKS) Natural Gas Gathering and Processing segment's total volumes. You can read more about it in ONEOK Partners: How Gas Gathering, Processing Segment Makes Money. ONEOK Partners forms 4.5% of the Global X MLP ETF (MLPA).
MEP hedges its commodity price exposure
According to MEP, 41% of its 47% commodity price sensitive contracts are currently hedged. This leaves its exposure to commodity prices to only 6% of the contracts. Despite hedging, the MLP is exposed to commodity prices indirectly. Lower commodity prices impact volumes and thereby revenues, as we saw in the previous part.
Demand-based revenue growth is a key strategic priority for MEP. The MLP is focusing on demand-based contracts in its new business growth. It's also making efforts to have minimum volume commitments for its current fee-based contracts.
Some other MLPs with natural gas gathering and processing assets include DCP Midstream Partners (DPM), EQT Midstream Partners (EQM), Energy Transfer Partners (ETP), Targa Resources (NGLS), Tallgrass Energy Partners (TEP), Southcross Energy Partners (SXE), and Summit Midstream Partners (SMLP).