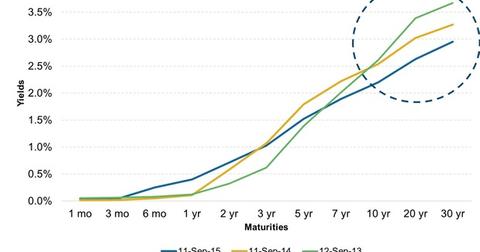 Long-Term Treasury Yields and the Flattening Yield Curve
By David Ashworth

Updated
Long-term yields
In the previous article, we analyzed the movement of short-term Treasury yields. In this article, we'll analyze long-term Treasury yields.
In 2013, in the long-term maturity period, there was a stark difference between the yields on the benchmark ten-year note and the 20-year bond. On September 12, 2013, the difference in yields between these two papers stood at 78 basis points. Meanwhile, the yield on the 30-year bond was 3.67%.
Article continues below advertisement
This stark difference between yields was absent in September of both 2014 and 2015. In 2014, the difference in yields between the ten-year note and the 20-year bond was 48 basis points, and it presently stands at 43 basis points. The yield on the 30-year bond stood at 3.27% on September 11, 2014, and is currently below the 3.0% level.
Flattening of the yield curve
While yields on the short end of the Treasuries yield curve have risen, that on the longer end have fallen, resulting into a flattening yield curve. What does this mean?
A flattening yield curve refers to a situation in which the difference between yields of short- and long-maturity securities has decreased from its historical trend.
In a benign economic environment, the yield curve slopes positively—yields rise as the maturity of the bond increases. So, the yield on a five-year security would be higher than that of a three-year security, and so forth. This occurs because investors demand a premium for investing in the long term. By the same argument, a flattening yield curve shows that investing in longer-term bonds does not compensate investors for the additional risk as much as it used to.
While changes in short-term Treasury yields impact mutual funds like the Oppenheimer Limited-Term Government Fund (OPGVX), changes in long-term Treasury yields impacts funds like the Wasatch-Hoisington US Treasury Fund (WHOSX). The business of bank-related companies like Washington Federal (WAFD), BankUnited (BKU), and Wintrust Financial Corporation (WTFC) is also impacted by changes in interest rates.
In the next article, let's see how spreads between Treasury securities of different maturities look.