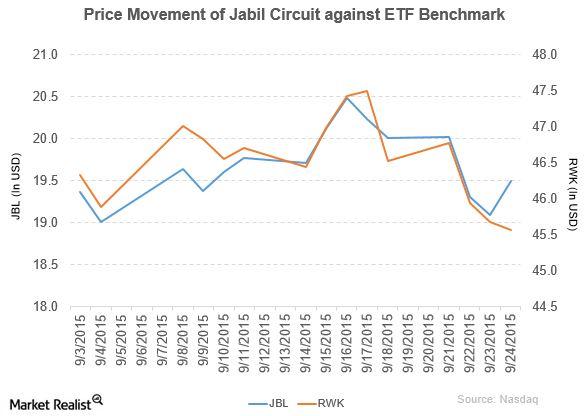 Jabil Circuit: Organic Growth Boosts the Revenue
By Gabriel Kane

Sep. 29 2015, Updated 10:47 a.m. ET
Jabil Circuit's price movement
Jabil Circuit (JBL) has a market cap of $3.78 billion. Its YTD (year-to-date) price movement was stable until the last three months. After the earnings report in 4Q15, Jabil Circuit rose by 2.15% to close at $19.50 per share. The price movement on a weekly, monthly, and YTD basis is -3.61%, 10.42%, and -9.67%, respectively. It's trading at -2.55% on a trailing five-day basis.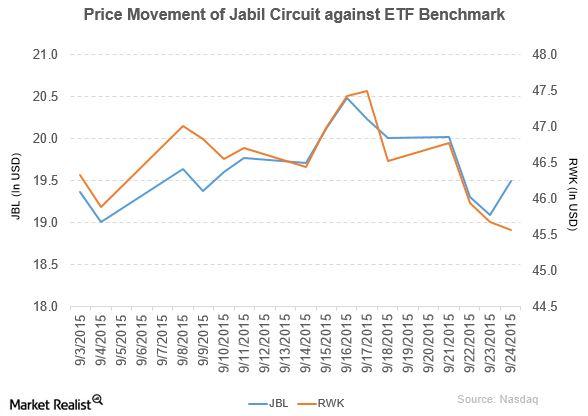 Technically, in the last three months it has broken all of the supports. Currently, it's trading at 0.05% above the 20-day moving average, -0.19% below the 50-day moving average, and -9.48% below the 200-day moving average.
The RevenueShares Mid Cap ETF (RWK) invests 1.17% of its holdings in Jabil Circuit. RWK tracks a revenue-weighted index of the S&P Mid Cap 400 Index. The YTD price movement of RWK is -4.72%.
Jabil Circuit's competitors and their market caps are:
Article continues below advertisement
Jabil Circuit's performance in 4Q15 and fiscal 2015
The company reported net revenue of $4,680.813 million in 4Q15—a rise of 7.30% compared to net revenue of $4,358.641 million in 3Q15. The net income and EPS (earnings per share) rose to $87.702 million and $0.45 per share in 4Q15—a rise of 21.40% and 21.70% on a quarterly basis.
On July 16, 2015, the company announced a quarterly dividend of $0.08 per share to shareholders.
In fiscal 2015, the net revenue and gross profit rose to $17,899.196 million and $1,503.218 million—a rise of 13.50% and 46.50% on a yearly basis. The net income rose by 17.60%. With the rise in sales, the accounts receivable and inventories rose by 21.40% and 24.80%, respectively, in fiscal 2015. The debt-to-equity ratio rose to 3.11 in fiscal 2015—a rise of 13.09% compared to the debt-to-equity ratio of 2.75 in fiscal 2014.
About Jabil Circuit
Jabil Circuit is an electronic product solutions company. It provides comprehensive electronics design, production, and product management services to global electronics and technology companies. It provides comprehensive, individually-focused solutions to customers in a broad range of industries.