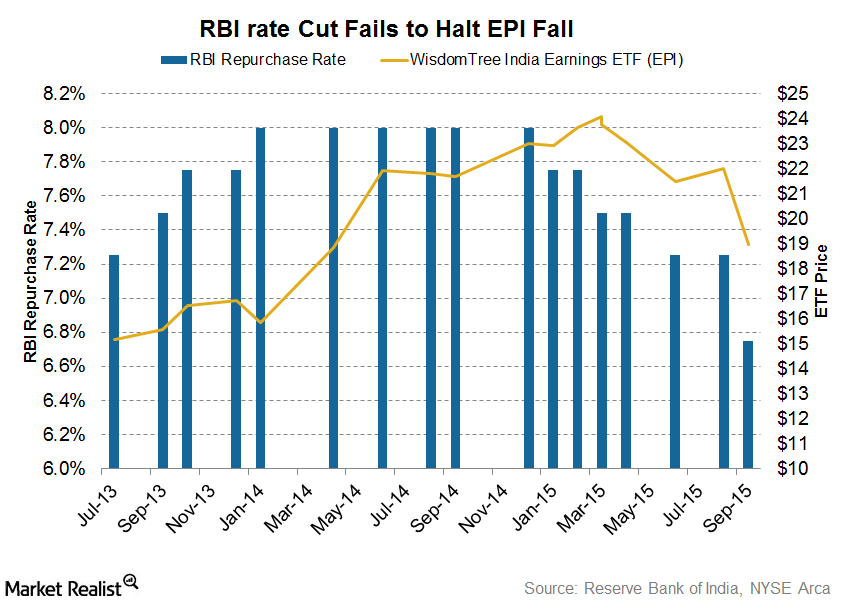 India's Central Bank Cut the Rate to Support the Global Recovery
By Lara Sheldon

Nov. 20 2020, Updated 3:11 p.m. ET
India's repo rate stands at 6.75%
With a fall in the inflation rate to 3.66%, the RBI (Reserve Bank of India) initiated the rate cut. The inflation was below the target of 6% set by the RBI for January 2016. The policy repo rate was reduced by 50 basis points from 7.25% to 6.75%. As a result, the reverse repo rate stands adjusted to 5.75%. The MSF (marginal standing facility) rate and the bank rate are at 7.75%.
Article continues below advertisement
RBI rate cut fails to halt the EPI's fall
India-focused ETFs like the WisdomTree India Earnings ETF (EPI) fell 13.50% over the past year as of September 29. Over the past year, banking stocks and ICICI Bank (IBN) fell 16.50%, respectively, as of September 29.
With high bank rates in India, banking stocks were severely hit due to reduced margins. However, private sector banks' stocks like HDFC Bank (HDB) rose 24.40% over the past year. It fared better than the public sector undertakings. Most of the public sector banks are impacted by growing NPAs (non-performing assets) and poor credit growth.
In India, industrial production fell to 4.20% in July from 4.40% in June 2015. The gross fixed capital formation fell to 5.60% in 2Q15. Increased global volatility and weak growth in emerging economies also prompted the RBI's decision of a rate cut. Metals and mining stock like Vedanta (VEDL) fell 68.90% over the past year as of September 2015.
Software companies benefit from the depreciating rupee
Over the past year, the Indian rupee depreciated by 7.60% against the US dollar. This is positive news for export-oriented companies. Software stocks like Infosys (INFY) and WNS Holdings (WNS) rose 17.90% and 30.60% over the past year as of September 29.
To boost their respective growth engines, the US Fed and the ECB (European Central Bank) have maintained zero-bound interest rates. The RBI's decision to cut the rate may be considered a welcome move to help this emerging market economy gather some steam.
Most of the developed world is driven by credit. Emerging markets like India are driven more by savings and investment. As a result, the rate cut may allow businesses to undertake investment projects.
To learn more, read Japan's Credit Rating Downgraded to A+ by Standard & Poor's.
To stay updated on the economic front, visit Market Realist's Global ETF Analysis page.