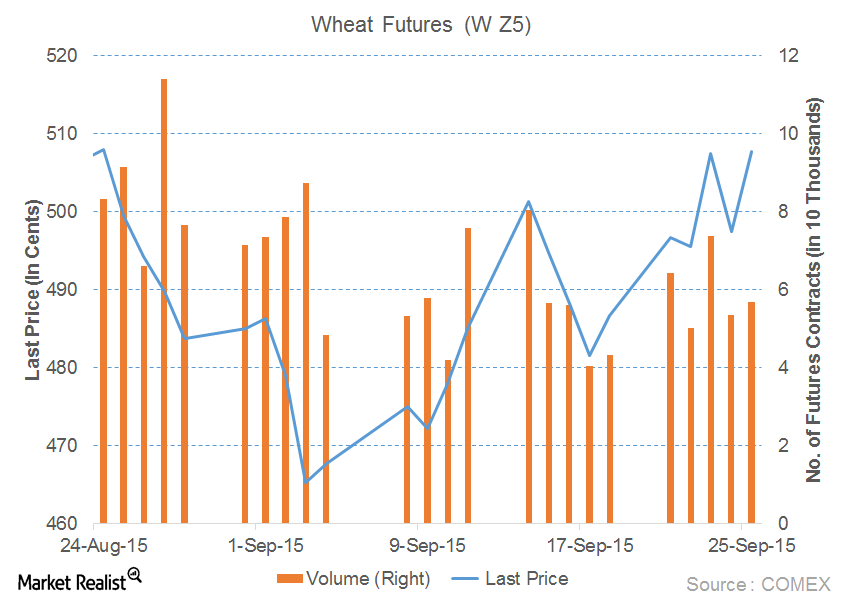 Implications of Decreasing Supply in Wheat Market
Wheat prices rise
December CBOT (Chicago Board of Trade) wheat futures prices rose 2.06% and settled at $5.07 per bushel on September 25, 2015. Wheat prices rose due to rising unfavorable weather in Russia and Ukraine, positive technical indications, and lower expectations of autumn wheat plantation. ETFs such as Teucrium Wheat Fund (WEAT) rose 2.45% following wheat futures prices on CBOT on September 25, 2015.
The weather in the Black Sea region, especially in Russia and Ukraine, is threatening the wheat supply Increasingly dry weather might pose a threat to crop progress over the next ten days. Riding on declining sentiment of wheat supply, traders bought wheat futures on September 25, 2015, in the hope that US wheat might find buyers in the international market. Prices settled at a monthly high on the day, but only time will tell how sustainable this rally will be.
Article continues below advertisement
Expectations remained stronger on the supply side as prices closed above the 50-day moving average price of $5.04 per bushel. Wheat futures prices on CBOT gained $0.30 in last three weeks ending September 25, 2015, registering a significant rise on the day. Technical indicators show strong price rise sentiment.
Autumn wheat plantation may be lower, as the current supply-and-demand scenario is significantly heavy on the supply side. Black Sea region wheat has been more competitive, which has hurt US wheat export sales. There remains a significant difference in competitive pricing in US wheat against Black Sea region supply. With aggregating conditions, autumn wheat production might not be that rewarding, given that prices are below five-year average levels. This could affect the profitability of the wheat crop and might hurt autumn plantation. The US Department of Agriculture has also expressed fear that world wheat inventories at the end of the marketing year 2015–16 might reach record highs. In these conditions, it might not be a surprise if we see lower wheat plantation results in the crop progress report for the week ending September 27, 2015.
Impact on fertilizers
Fertilizer usage should increase if wheat prices rise, as farmers will want to use fertilizers for better yield. However, the high wheat supply and lagging demand might result in a reduction in additional fertilizer sales for companies such as Potash (POT), Terra Nitrogen Company (TNH), Intrepid Potash (IPI), and CF Industries Holdings (CF). Shares of these businesses slightly decreased on September 25, 2015, along with the Materials Select Sector SPDR ETF (XLB), which has an interest in these stocks.