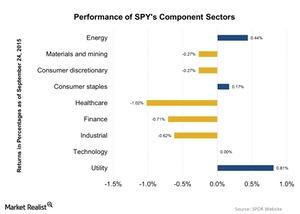 Why the Healthcare Sector Pulled SPY Down by 0.36%
By Renee Blakely

Sep. 28 2015, Published 7:58 a.m. ET
Unpredictability is in the air
The SPDR S&P 500 ETF (SPY) and the Direxion Daily S&P 500 Bull 2X ETF (SPUU) fell on Thursday, September 24, by 0.36% and 0.94%, respectively. The US stock market was surrounded by uncertainty regarding the monetary policy and overall economic activity around the world. Janet Yellen, the Fed Chair, while addressing her audience at the University of Massachusetts, stated her personal opinion that there will likely be an interest rate hike sometime later this year. However, it depends on the latest economic data.
The probability of a rate hike still isn't clear for US investors. The concerns about China's economic slowdown add to investors' concerns. Let's look at SPY's sector performances.
As you can see, the utility sector advanced by 0.81%. It was followed by energy sector stocks. The rise of the utility sector and the fall of sectors like industrial, financial, materials and mining, and healthcare shows the volatility in the stock market.
Article continues below advertisement
Healthcare stocks fell again on Thursday
The healthcare sector went into a frenzy over a tweet by Hillary Clinton, a US Democratic presidential candidate, about price gouging for a specialty drug. Healthcare stocks like Tenet Healthcare (THC), Universal Health Services-B (UHS), and Endo International (ENDP) fell by 4.50%, 4.10%, and 3.98%, respectively, on September 24.
Endo International, a pharmaceutical company, has a high beta of 1.22. This implies more risk. The stock's trailing five-day return is -10.61%. On September 23, Endo International's volume rose from 2,154,168 on the previous day to 3,659,198 on Thursday. Tenet Healthcare, a healthcare facilities company, had been rated "B" by Morningstar. The rating meant that the company is a high default risk. Tenet Healthcare's trailing five-day return was -9.99%. Recently, Universal Health Services (UHS) has been taking over many facilities to gain a competitive advantage. The latest deal was the acquisition of Foundations Recovery Network for ~$350 million.
The healthcare stocks that beat the downtrend on Thursday, September 24, were Allergan (AGN), CareFusion (CFN), and Mylan (MYL). These stocks have a beta that's less than one. They yielded 1.38%, 0.72%, and 0.33%, respectively, on September 24.
In the next part, we'll look at the other key stocks of the day.