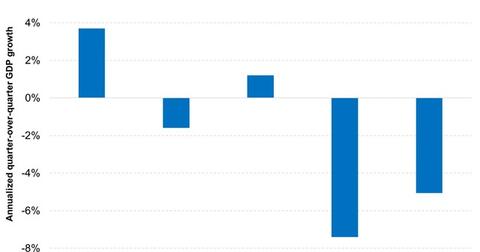 Why Global Growth Could Be Muted
By Hugh Young

Updated
Asia's vulnerability is particularly bad news given the fragility exhibited elsewhere, especially within the developed markets – Greece always seems one loan away from being kicked out of the Eurozone, while stimulus policies in Japan have not translated into sustainable growth.
With the US Federal Reserve (the Fed) all but having committed to an interest rate rise soon, this will put unwanted pressure on the US central bank in the shape of a rising dollar and downward pressure on prices.
In the face of all this, investors are right to be worried. Prices have been supported by liquidity and confidence in policymakers' judgment, not by corporate fundamentals.
Article continues below advertisement
Market Realist – Weakness in China could lead to a contagion, and global growth could be muted.
The graph above shows the annualized GDP (gross domestic product) growth rate for the latest quarter for some major developed and emerging markets. The US GDP grew at a healthy 3.7% in 2Q15, and it remains one of the few bright spots within developed markets. Japan (JEQ)(HEWJ) contracted by 1.6% on an annualized basis in 2Q15, suggesting that more measures are required to get the economy back on track.
While the Eurozone was showing signs of recovery, the situation in Greece (GREK) threatens to slow it down. The Eurozone expanded by 1.2% in 2Q15. Russia (RSX) and Brazil (EWZ) seem to be heading to a deep recession, as commodity prices are likely to remain low. The Brazilian economy contracted by an annualized 7.4% in 2Q15 while Russia's GDP shrunk by 5.1% in 1Q15. Growth could soon become a rare commodity.
The impact of the stronger dollar on US large-cap companies (SPY)(RSP) has been well documented. For example, the stronger dollar negatively affected pharma giant Johnson & Johnson's (JNJ) 2Q15 earnings by 7.9%, while the stronger dollar wiped out  7% of Google's (GOOG) earnings and 10% of Accenture's (ACN) earnings in 2Q15.
Also, the United States is the only major economy that could soon be hiking rates. The global divergence in central bank policies is likely to make the dollar even stronger. Funds tend to flow to economies that offer higher yields, strengthening their currency. A stronger dollar should negatively affect US exports and the earnings of large caps. Also, as imports will be cheaper due to the stronger dollar, it should put downward pressure on inflation.