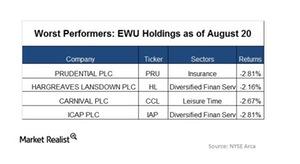 Financial Services Take EWU Down
By Renee Blakely

Nov. 20 2020, Updated 11:08 a.m. ET
Financial services are bottom stocks
On August 20, the bottom four stocks of the iShares MSCI United Kingdom ETF (EWU) were ICAP (IAP), Prudential Financial (PRU), and Hargreaves Lansdown (HRGLF) from the financial sector and Carnival (CUK) from the consumer discretionary sector.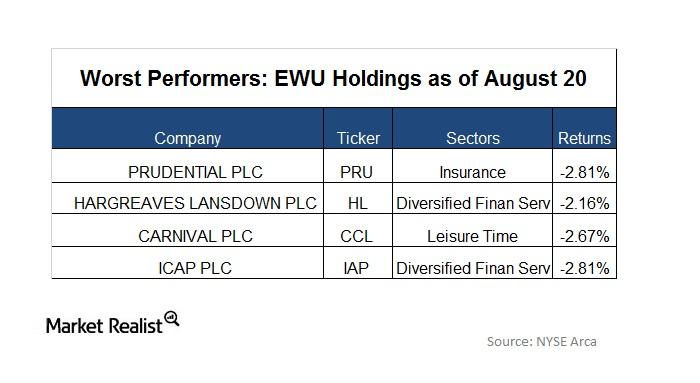 ICAP was downgraded to "underweight" from "equal-weight" by Morgan Stanley analysts. HRGLF ratings have been revised to "sell" by analysts at Liberum Capital. The downgrade in the company ratings took the stocks down on August 20.
Article continues below advertisement
Stocks that traded above their respective moving averages on August 20 were National Grid (NGG), British Land (BRLAF), EasyJet (ESYJY), Admiral Group (AMIGF), RSA Insurance (RSAIF), and Tui Ag-Di (TUI). They belong to the utility sector, industrial sector, leisure sector, and financial sectors. GlaxoSmithKline (GSK), which belongs to the healthcare sector, yielded -0.58% on August 20.
The Eurozone economy
The Eurozone economy seems resilient in the face of turmoil in the stock market. Influential countries such as Germany and Spain are displaying some positive economic activity due to the increase in GDP (gross domestic product) and a declining unemployment rate. July inflation of 0.1% in the United Kingdom and the fall in the unemployment rate have also struck a very positive note.
The above economic indicators assure a pickup in business activity, both in the manufacturing and service sectors. With the rise in production levels, more jobs are created and the unemployment rate falls further. The increase in GDP denotes the rise in production level, which is accompanied by a rise in employment opportunities. With a more employed population in a country, the spending level increases, thereby boosting business activity. Thus, the economic cycle picks up from stagnancy.
For the further read on unemployment as an economic indicator, you can read our article Is the US Economy at Full Employment?