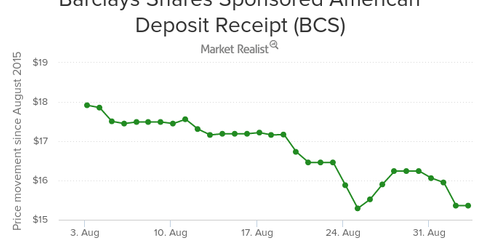 Financial and Consumer Staples Sectors Performed Well
By Renee Blakely

Updated
Financial sector and consumer staples sector performed well
Among the component sectors of the iShares MSCI United Kingdom ETF (EWU), the financial sector and the consumer staples sector performed well in the UK market on September 2.
Barclays (BCS) rose by 1.95% on September 2, closely followed by Lloyds Banking Group (LYG), which earned 1.94% on the day. The Royal Bank of Scotland (RBS) also yielded 1.92% on September 2.
[marketrealist-chart id=634221]
Barclays (BCS) announced its plan to sell off its non-core operations in Portugal to Spanish lender Banktinder. BCS wants to cut down on its risk-weighted assets and thus enhance shareholders' returns. The company says the move is in line with Barclay's strategy to rebalance and ensure sustainable returns to its shareholders.
Unilever (UL), from the personal care products industry, rose by 1.87% on September 2. The company has named Gina Boswell as new general manager for its UK and Ireland operations. Her experience and expertise in personal care products has indeed added to the brand value of the company.
Other stocks such as BT Group (BT) from the technology sector returned 2.19%. The Vodafone Group (VOD) closely followed with a 2.05% return on September 2. Pearson (PSO) from the service sector yielded 0.90% on the day.
The UK government is expected to raise rates next year, though nothing is certain yet. The rate hike decision will be closely related to economic indicators in the UK like employment. Thus, a rise in rates is expected to boost investor confidence in the UK.
Article continues below advertisement
Also, there is uncertainty in regards to the shift in investor bias from equity to government securities. This will have a downside impact on the UK stock market. Thus, it seems that the uncertainty with the UK stock market will prevail for a significant period. The other factor is the frequent up and down in oil prices. Brent crude oil forms a major export commodity in the UK and thus the global demand for oil globally matters to the UK. It seems that the volatility in the stock market is the "new normal" for a while.
For more detail on the US Fed's perspective on raising the interest rates, read A Drop in Inflation Expectations Could Be Troubling.