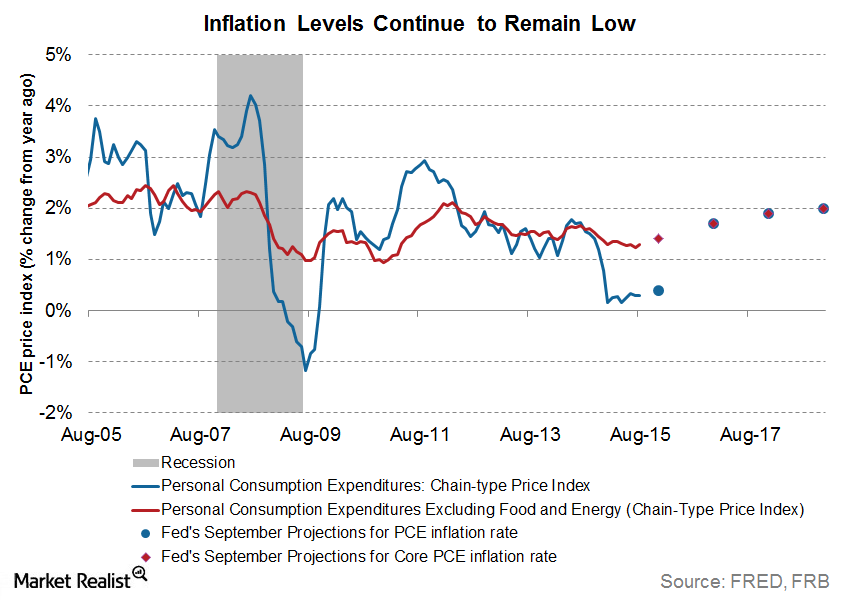 Why the Fed Decided to Postpone Liftoff
By Rick Rieder

Nov. 20 2020, Updated 3:37 p.m. ET
Forget the September versus December debate. The Fed may already be behind the curve, according to Rick Rieder.
With the Federal Reserve (or Fed) having made its long-awaited September policy announcement, the debate in the media over when the Fed will announce liftoff continues to rage on.
While I believe a December rate hike is likely, the data even supported a September rate increase. Indeed, September may actually have been too late. Several factors suggest that the Fed may have missed a window of opportunity for raising rates during the past few months. In other words, here's why the Fed may already be behind the curve.
Market Realist – A dovish Fed maintained the status quo by putting policy normalization on hold in September. The timing of the Fed's policy normalization remains uncertain. Even now, four of the 17 FOMC (Federal Open Market Committee) members aren't inclined to raise the rates in 2015. You can see this in the above graph.
This graph is the Fed's dot chart. Each dot represents an FOMC member's opinion about the appropriate federal funds rate over different times. Two dots seem to indicate that one FOMC member would even consider negative interest rates as the way to go in the future.
This new dot plot is a lot more dovish than the one we saw in June. The median forecast for the federal funds rate came in at 0.4% for 2015, 1.4% for 2016, 2.6% for 2017, and 3.5% over the longer run. This is lower than the median forecasts released by the FOMC in June—0.6% for 2015, 1.6% for 2016, 2.9% for 2017, and 3.8% over the longer run. The following factors are the main reasons why the Fed decided to remain on hold in September.
The slowdown in China: The Chinese economy (MCHI)(FXI) is showing numerous signs of a slowdown. The recent stock market rout in China (ASHR) has made investors jittery, ushering in volatility for all emerging markets (IEMG)(VWO). China's recent devaluation of the yuan could also pose unforeseen problems for the US economy going forward. The devaluation means a stronger dollar (UUP), which might negatively affect exports.
Low inflation levels: Low inflation levels seem to have played a key role in the Fed's decision to put off an interest rate hike. The PCE (personal consumption expenditure) price index is the Fed's preferred measure of inflation. It only rose 0.30% YoY (year-over-year) in August. This is way below the Fed's target rate of 2%. Moreover the breakeven inflation rates—often considered a gauge of inflation expectations—continue to display weakness. The strong US dollar (UUP) is also exerting downward pressure on commodities (DBC), another cause of lower inflation.
Article continues below advertisement