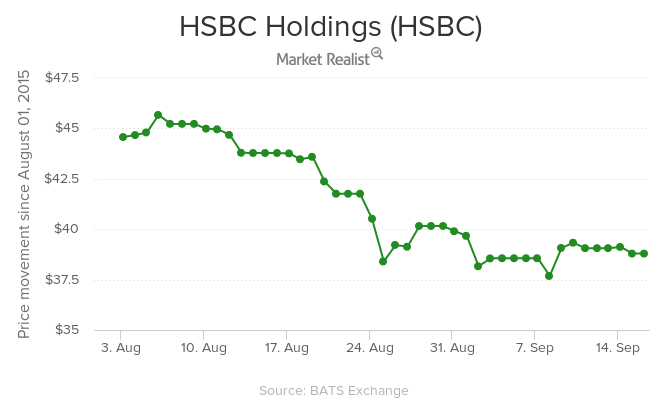 Fall in UK Inflation Could Boost Consumer Spending
UK inflation
The fall in the United Kingdom's inflation back to zero could boost consumer spending, especially in the consumer discretionary sector. The zero inflation in the country has arrived at a time of a rise in wage rates. This will definitely impact consumers' spending habits. This could bolster the United Kingdom's economy.
[marketrealist-chart id=658840]
Article continues below advertisement
Leaders and laggards
The financial sector in the United Kingdom performed extremely well on September 15. There was a rise in all of the sector's major stocks. These include Aviva (AV), Prudential (PRU), Royal Bank Of Scotland Group (RBS), Lloyds Banking Group (LLOY), Barclays (BCS), and HSBC Holdings (HSBC). Aviva rose by 2.62% with 15 "buy," six "hold," and three "sell" recommendations. Prudential, Royal Bank of Scotland Group, Lloyds Banking Group, Barclays, and HSBC returned 2.49%, 1.08%, 1.46%, 2.02%, and 1.60%, respectively.
HSBC Holdings has shown a steady rise over September. The stock received 14 "buy," 20 "hold," and three "sell" recommendations.
The stocks at the bottom the iShares MSCI United Kingdom ETF (EWU) were Kingfisher (KGF), Vodafone (VOD), and TUI AG-DI (TUI). These stocks yielded -2.50%, -1.27%, and -1.15%, respectively, on September 15. The Vodafone-Liberty Global deal that has been in talks since June 2015 looked unlikely. The deal was expected to be a great achievement in Vodafone's strategic decisions. According to the news, United Kingdom investors reacted in disappointment and the stock fell on September 15.
Kingfisher received an "underperformed" rating from RBC Capital whereas Nomura restated its rating as "neutral."
The Fed's discussion on September 16 will determine the US and the United Kingdom's stock market performance in the coming days. Until then, the price movements are attributed more to investors' sentiment.
For detail read on Treasury securities and their yield ahead of Fed's meeting, read Long-Term Treasury Securities' Actions Before the FOMC Meeting.