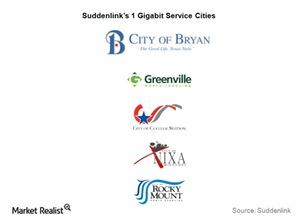 Expansion of Suddenlink's Gigabit Offering in Texas
By Ray Sheffer

Updated
Suddenlink's gigabit offering
In the earlier parts of this series, we looked at the single- and multi-gigabit Internet offerings of major US Internet service providers (SPY), including AT&T (T), Verizon (VZ), Comcast (CMCSA), and Google (GOOG) (GOOGL).
We'll now turn our attention to Suddenlink's 1 Gpbs (gigabit per second) broadband offering. Suddenlink is a cable provider. According to a Multichannel News report, "Suddenlink Communications has expanded its 1 Gbps residential broadband service to four more areas of Texas – Lubbock, Shallowater, Wolfforth and Post – while also juicing up the speeds of two existing tiers for no added cost."
An earlier Suddenlink press release stated that the company began offering its 1 Gbps (gigabit per second) residential service in four Texas markets—Bryan-College Station, Rocky Mount, Nixa, and Greenville—on July 9, 2015.
Article continues below advertisement
Operation GigaSpeed
The report by Multichannel News also cited a statement made by Suddenlink' regional senior vice-president Dave Gilles. According to Gilles, "Today's announcement is the next step in Operation GigaSpeed, the company-wide plan we announced last August."
Suddenlink's Operation GigaSpeed initiative was announced in August 2014. The company had planned a $230 million expenditure with an expected end date of 2017 to improve its Internet speeds.
The Operation GigaSpeed initiative also includes the development and expansion of Suddenlink's gigabit offering. The company expected its maximum speeds to reach 1 Gbps in 90% of its coverage after it completed the initiative.
About Suddenlink
According to Suddenlink, its subscribers rank it seventh among US cable providers. The company's coverage reaches Texas, North Carolina, Louisiana, Oklahoma, Arkansas, and West Virginia.
European telecom company Altice signed an agreement on May 19, 2015, to acquire Suddenlink. According to the agreement, Altice will buy a 70% stake in Suddenlink. This deal puts the EV (enterprise value) of Suddenlink at $9.1 billion.