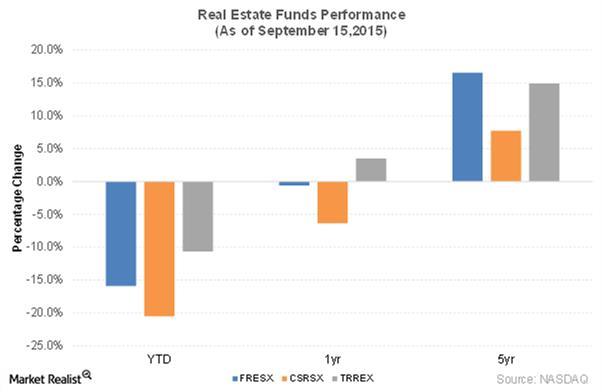 A Dismal Year for Real Estate Sector Funds So Far 
By Pete Raine

Sep. 24 2015, Published 11:29 a.m. ET
Introduction 
In this article, we'll examine the performance of three US real estate equity funds: the T. Rowe Price Real Estate Fund (TRREX), the Cohen & Steers Realty Shares (CSRSX), and the Fidelity Real Estate Investment Portfolio (FRESX). All three funds have a similar strategy of investing at least 80% of their total assets in common stocks and other equity of real estate companies.
All three funds have portfolios concentrated in the real estate sector, which means low diversification and greater performance risk. Their performance will be directly affected by factors such as a change in interest rates, GDP (gross domestic product) growth rate, and inflation.
Article continues below advertisement
The real estate portfolios of these funds consist mainly of the market segments, namely industrial/office, housing, healthcare, self-storage, hotels, and shopping malls. As of June 30, 2015, the top three holdings of TRREX were AvalonBay Communities (AVB), Equity Residential (EQR), and Essex Property Trust (ESS).
Returns are negative for all funds
YTD (year-to-date) ended September 16, 2015, returns on an average annualized basis are a reflection of the gloomy scenario of the real estate sector this year. All three funds have fallen YTD. FRESX returned -15.9%, CSRSX returned -20.5%, and TRREX returned -10.6% in the period.
A long-term comparison to a five-year performance in terms of average annual growth rate gives a similar result. The average annual growth rate is the arithmetic mean of the growth rate over the specific number of years. In the five-year period ended August 2015, FRESX rose 16.5%, TRREX rose 14.9%, and CSRSX rose 7.7%. A comparative analysis of the annualized growth rates for three different periods is shown in the above graph.